MSR Hubba Hubba Tent
by
Dirk
02/28/2013 10:54:44 A.M.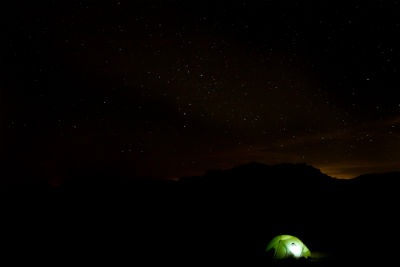 In early 2013, a friend and I left on what turned out to be a 5,000 mile road trip to California. Having traveled cross-country on several occasions, we decided to add a little more excitement to the trip – we were going camp every night (unless we found a free place to stay) in the middle of January. Both my friend and I took MSR Hubba's with us - he had the one person Hubba and I had the two person Hubba Hubba. Both functioned amazingly, no matter where we slept.
The nice thing about the Hubbas is that they are traditional freestanding dome tents.
The setup is simple - with only one pole and (maybe the best thing about the Hubba series) it has a nifty pole that spreads the mesh sidewalls of the tent apart to give you an amazing amount of head room. This also helps the tent feel a lot less Claustrophobic. The single person Hubba does this as well.
I really like this two person tent – as a base camp style tent for me and my stuff. Yet, although it is a great tent, it weighs around 4 pounds and is a little heavy for me to carry into the backcountry if I'm the only one sleeping in it. In that case I might opt to take my Etowah ultralite tarp (17 oz.) instead of my tent. This tent would be the perfect backcountry companion for two medium sized people looking for a high quality/durable tent for overnight hiking trips. Splitting the weight into 2 lbs per person makes it much more of a reasonable compromise.
A great benefit of this tent is the various ways the tent can be set up - depending on weather or even preference. I recommend going to the MSR website and looking at all the "fast fly" type of set ups where you could basically erect this tent in a matter of seconds in a flash rainstorm. Keep in mind though that this tent doesn't come with the footprint (ground tarp). I would advise buying one to save the bottom of your tent from wear-and-tear, and personally, I like the one specifically designed for the tent by MSR because it allows you to take advantage of all the quick set ups from the videos.
I've used this tent more in the last two months than most people probably would use it in its lifetime and it's still holding up well. The other night I was in Joshua Tree National Park taking photos of my tent glowing under the stars - it was a spectacular night with a view that seemed imaginary. I remember checking my Suunto watch – it was 3:30 a.m. and I noted that the temperature was 28 degrees outside. It was time to enjoy these stars from the comfort of my tent, so I pulled off my rain fly and tossed it aside (and believe me, the black mesh on this tent allows a clear, full view of your surroundings – a definite selling point for me).
In conclusion, I really like this tent and would absolutely recommend it to a friend, co-worker, or client. I've had a few tents in my life and I definitely think that the MSR Hubba Hubba is a classic. This tent will be around for a long time, believe you me. Check out this tent the next time you're at the store, or better yet, set it up and get into it. It's a palace for one, comfy for two, and a great addition to any outdoor gear list.