Etowah Tarp Review
by
Dirk
02/18/2013 11:20:23 A.M.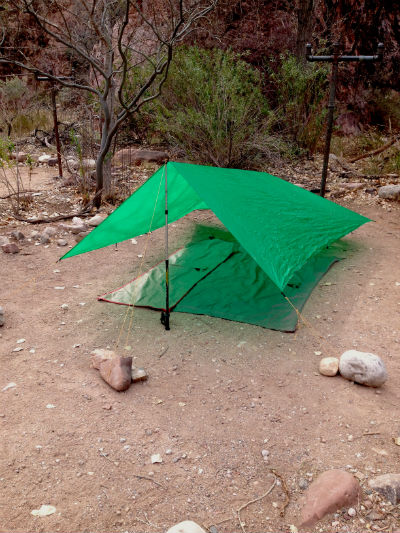 The typical school of thought when purchasing a shelter for the outdoors causes people to immediately go for a tent. For a very long time I shared this same point of view - it certainly has its place in the outdoors. For the most part a tent keeps you safe from the elements, and from small critters (but not bears, that is a myth). Until recently I was one of those guys who would always lug the tent around - all 4 pounds of it. Since that my mind has been recently changed to believe that "lighter is better" I've fallen in love with a product that's eliminated almost 3 pounds from my base weight just on its own - the Etowah Sil Nylon tarp.
Recently, I started discovering the joys of packing lighter - I get to enjoy the outdoors more because I'm not as fatigued, and I get to see more because I'm getting to hike more. It's quite brilliant - so why do people choose to carry their heavy tents into the woods? Good question.
I recently put my Etowah tarp to good use, regardless of the initial skepticism I shared of it being fully waterproof. After all, we were only spending a few nights in the Grand Canyon and how likely was rain going to be in the forecast in the middle of January? Well it did rain - all night long in fact - and my friend and I didn't get wet at all, regardless of some pooling that happened on the tarp. The tarp is extremely comfortable for two, a mansion for one.
I brought along the 8 x 10 ft tarp that I attached 2 mm cord to as tie down points. To be set up properly it requires the use of trekking poles as stabilizers (which I always use and highly recommend if you like the idea of having functional joints when you get older). Depending on the weather you might want to have a few configurations in mind based on your needs, whether it be protection from the rain or airflow for the heat.
I learned a few different configurations from hikers (who work at TCO) and from youtube videos. Creativity also helps a good bit when trying to find convenient ways to set up the tarp. For example when we slept in Indian Garden campsite, on the Bright Angel trail - the ground was too hard for my stakes, so I improvised with heavy rocks to hold the configuration up. In total without the trekking poles I always bring along (with or without a tent) the Etowah shelter weighs no more than 19 ounces. A weight that will have you spending more than $400 if a similar existed. So the tarp is saves weight and cost.
One of the downsides of the tarp is that you should definitely consider bugs when taking it out. Based on where we were and the time of year, we didn't have to worry about scorpions or snakes. In summer - there is a definite worry about poisonous critters getting into your stuff if you have no mosquito netting like you do with a tent. If you have your own mosquito net you could improvise! The tarp also lacks when setting up a shelter is time sensitive. It definitely takes more time to set up the tarp- especially depending on where you're setting up as opposed to a fast fly set up from a tent.
The tarp shelter is for you if you need an ultra light shelter and are in mild conditions. You obviously don't want to take a tarp as a mountaineering shelter. If you already hike with trekking poles then you can be multi functional in the items that you bring along. Don't forget to gauge how the water will flow (away or to) your shelter if a storm were to go in - when the ground soaks up water there could be potential of getting wet, and always bring a lightweight ground cloth to protect your sleeping pad and bag from rocks and debris.
Using a tarp changed the way I look at hiking, and has given me the mobility that I want when I'm out in the wilderness. I highly recommend anyone to check one out!