Yukon Outfitters Vista Hammock
by
Phil
07/05/2017 10:28:14 A.M.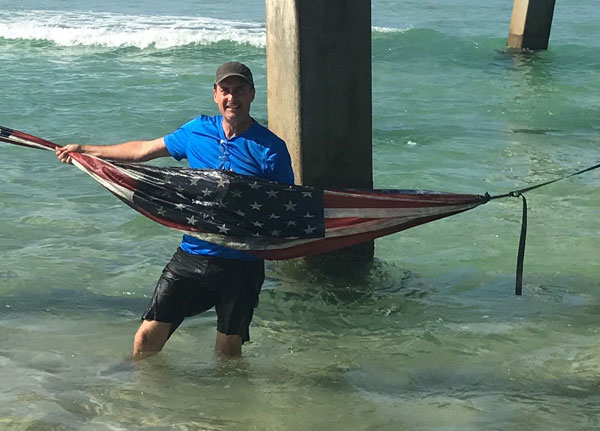 I got to spend the morning on the Gulf waters in Panama City Beach, Florida in my Yukon Outfitters new 'Vista' series printed hammock.
The no-stretch 1.5 oz proprietary diamond ripstop polyester leaves no guesswork as to how high to hang your 10' by 5' hammock.
Pull the hammock-end of each 10' strap through its loop, cinch down on each anchor (trees, poles, or in my case, pier piles) and you're already adjusting your hammock to the perfect height with the quick-and-easy cinch buckle suspension system.
The self-stowing stuff pocket holds the beverage of the moment.
The usual question comes up, "Will it support me?" Imagine a Grizzly reclining in your 'Vista' Series Hammock for twelve days. He weighs 900 lbs. To outdo the Griz, Yukon Outfitters hung 1200 lbs. of concrete from the hammock for twelve days to prove it could safely hold 400 lbs. . . . and the whole system weighs under 20 oz! Incredible weight to strength ratio!
The Yukon Outfitters 'Vista' Series Hammock has 40 prints to reflect who you are. And who you are is probably someone who prefers ease and speed with your hammock set up. I found no negatives with either.
Warmed by the sun and cooled by the waves this morning, I'm confident that the Yukon Outfitters 'Vista' hammock will rock you wherever you find to hang it. And it's made right here in the good ole USA. Keep hangin'!