Vibram Fivefingers Treksports Review
by
The Brit
08/09/2010 03:22:31 P.M.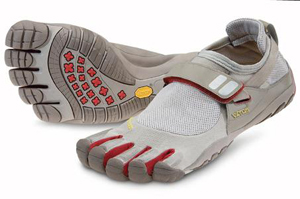 Vibram just released their new style of Fivefingers, the Treksport. This new shoe combines several of the best elements from three different styles: KSO's, KSO Treks, and Bikilas. So you end up with a versatile multifunctional shoe that you can use for trail running, trekking, water sports, or other uses. The Vibram Treksports are a great shoe for everyday use for any technical outdoor adventure you might partake.
Having evolved from the KSO Trek some features are immediately obvious. From it's leather brother, the Treksports have taken the foot bed which includes a 4mm EVA foam midsole followed by a 4mm Vibram Performance Rubber Outsole. This makes the KSO Trek and the Treksports the "thickest" foot bed out of any other Fivefinger shoes with a total of 8mm padding.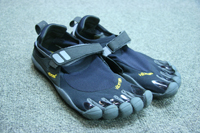 The KSO Treks where designed to be a rugged shoe you could bushwhack with and not have to worry about wear and tear from going through the woods. They did this with a thick foot bed and a top made from leather. The downfall to such a design was limited breathability. What the Treksports do is take the thick base and put a breathable upper on it made from Coconut Active Carbon Fiber, similar to the basic KSO. I was incredibly happy at this decision because living in Florida the KSO Trek's would just be too hot even though the thicker foot bed was a desirable feature. This makes the Treksports are a rugged breathable shoe that I find great for everyday use or something I'd be comfortable taking to the local state park and exploring with.
Having designed two new shoes at the same time, the Treksports and Bikilas, they share a lot of improvements. The Treksports have the same TPU toe protection as the Bikilas as well as the reflective materials that line the shoe. One of my favorite features of the Bikila is the built in support for the Achilles tendon. Some people find the original Fivefinger's pressure on the Achilles tendon to be annoying and sometimes painful. What the Bikila did is take away the strap around the tendon and just hug the tendon. Taking in the same consideration with the Treksports Vibram still left the strap around the tendon but added a cushion pad on the inside of the shoe that is 2 inches wide and comes up a half of an inch above the top of the shoe. This cushion makes walking and long exercise in the shoe easy and comfortable.

I've purchased these shoes and find them incredibly comfortable and useful. I've worn them in a downpour and in hot 105 degree weather and I haven't had any complaints about them. Many other employees in the store have purchased these and are very happy with them. The biggest compliment I hear people give is the support the shoe provides while still being breathable for a Fivefinger.
Vibram continues to surprise me in the ingenuity and care for how peoples feet fit into their shoes as well as the features on them that make them versatile in use and fun to wear, the Treksport is just another one of these grea