Vibram Fivefingers - A Basic Guide
by
The Brit
05/11/2010 10:46:13 A.M.

Vibram Fivefingers are well… big… Not the size of the shoe, but their popularity. Almost never before in the outdoor industry has a new technology or design come along and been so popular you literally can't keep it on the shelf since it came out over 2 years ago.
My original impressions of the item were skeptical; they didn't seem to look good to me, nor appear comfortable, and all I remember when they first came out is they can smell (you could smell coworkers feet from a mile away). A year went by and my opinion began to change.
I started to read the reason behind why Vibram Fivefingers were created, barefoot running. First I must say I used to hate… with a strong passion… running. It hurt, it was boring, it didn't seem worth it, the pavement was super hot, and did I mention it hurt? So keeping that in mind when I started reading all the articles and impressions of barefoot running or Vibram Fivefingers running I thought these people must be crazy. Running in shoes hurt, so how would running barefoot not hurt even more?
Soon after discovering the barefoot running school of thought I got into Adventure Racing. The first one I did was on the spur of the moment when somebody dropped out of our Travelcountry.com team a week before the event, so I jumped in and took his place. Needless to say I wasn't ready and it was one of the hardest best experiences of my life. I loved every second of it, running, biking, and canoeing through the outdoors. But it also taught me something, I was so out of shape.
With a strong desire to do better in Adventure Races and the helpful encouragement of a coworker I started to trail run. Shortly after starting to trail run I "broke down" and bought my first pair of Black 42 KSO Vibram Fivefingers. It is probably the most courageous shoe buy I have ever made, and I don't regret it one bit. The shoes are great, I run in them, I walk in them, and I sit around in them. They are comfortable and healthy. After a little break in period I could feel the shoes beginning to change my posture and helping strengthen muscles I've always had problems with.
Without getting into too many details on barefoot running and its advantages (I'll save that for another article) I'll talk about each of the Vibram Fivefingers shoes and my impressions on them. Including both fit and use.
Once you start to look into the sizing and fit of Fivefingers (another future article), you'll notice the classics and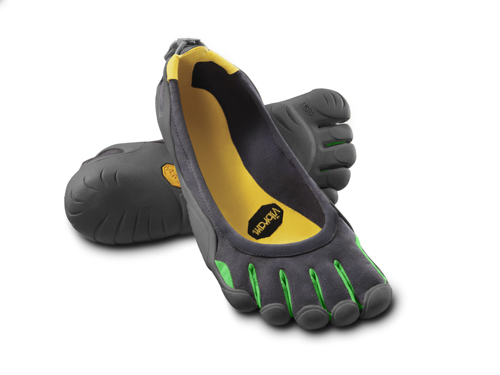 sprints differ from the KSO's and Flow's. The rule is you are one size plus in the classics and sprints compared to the KSO's and Flow's. However… not true for me. The classics are so incredibly reliant on the volume of your foot because they have no strap to hold your foot in the shoe; it relies entirely on the pressure of the elastic cord. I have a very low volume foot and heel, so in order for me not to slip out of the classics I have to wear a 42, the same size I wear in the KSO's. Strange I know, but remember there are so many factors that go into this shoe fit. So even though that "ruling" doesn't apply to me, doesn't mean it won't for you.
Besides fit the design of the shoe is very airy and loose feeling. It felt great on my foot, I feel free and unburdened because nothing is on the top of my foot. That being said, when walking around I noticed it would take some callus buildup for me to be to go long distances with these due to rubbing. Also my low volume heel was still slightly slipping so I probably wouldn't be able to run in them.
Overall these are great shoes for general use and especially water shoes. You can slip them off easily and they are airy for hot weather.
With the addition of the strap on the top of the foot and around the Achilles tendon the Sprint becomes a great roomy option. The shoe still feels slightly loose on your foot, space sometimes on the foot bed, and of course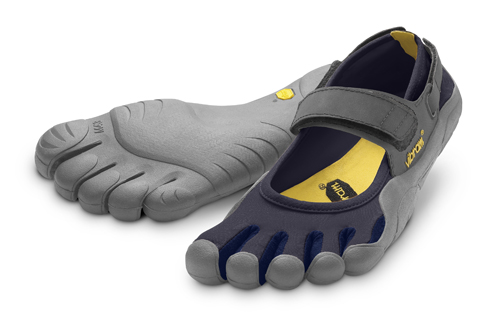 the bare top ventilating. I was able to fit into a 43 (proper sizing for my toes) in this version compared to the Classics because of the straps. The two Velcro straps on the heel are very useful for bringing the shoe into my low volume heel.
When walking around I felt very comfortable in them. Everything fit perfectly and in some degree was a little roomy, which just added to the relaxed feeling of it. In terms of running, it would be a lot easier then the Classics but I was afraid of possibly getting rubbing spots on the top of my foot from the strap.
This design is like the Classics, I nice simple comfortable shoe to do a multitude of activities in, but with a little bit more security than the Classics.
The fit of the KSO is the most perfect of them all for me. I've worn the KSO for just under a year now, and love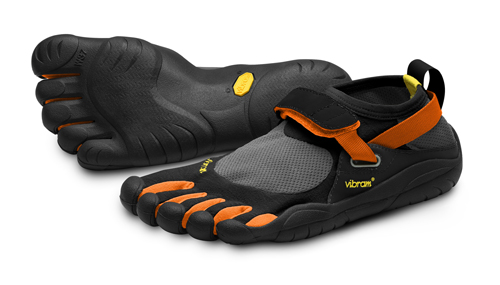 it. It's snug in the heel, midfoot, bottom of foot, and ball of foot. It literally feels like a nice comfy sock on my feet. The mesh material that comes up to your ankle isn't only a cover for the sun or debris but a tight almost elastic feeling fit. It doesn't cut off your blood flow but it brings your foot into the foot bed. Add in the strap to make every extra secure, and you have the perfect shoe.
I've gone running, walking, been in the water, and plenty of other activities with this shoe. They work great for almost anything. Their only downside is they can get hot because everything is enclosed.
So if you are okay with not having an "airy" shoe but having everything else in terms of fit and use, this is a great shoe.
The KSO Treks fit the same way as the KSO's. They are secure and snug, with a tight but comfortable feeling. The difference in these shoes is the bottom of the shoe. The Treks have a thicker rubber which makes it more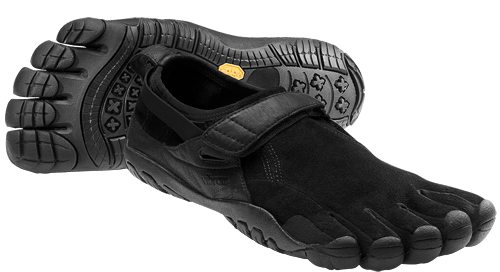 rugged and durable. This makes the support of your foot feel different; to me it felt a little bit like arch support in a regular shoe. I know it doesn't have "actual" arch support, but the thicker rubber on the bottom of the shoe makes for a more rigid feeling.
This shoe is a perfect trail runner. It's rugged but still minimalist. You won't have to worry about rocks or roots, or anything else you might encounter. My only concern with them is the leather top of the shoe might not breathe very well and your foot could become hot on a run. That being said… everything gets hot on a run right? Plus the leather top is more rip resistant then the KSO's mesh material.
You can still bend all of your toes and walk like you are barefoot, but this shoe has some added protection that makes it worthwhile investment if you don't think the KSOs will cut it for running.
The Flows fit the same way as the KSO. There rubber base is the same and although the material on the top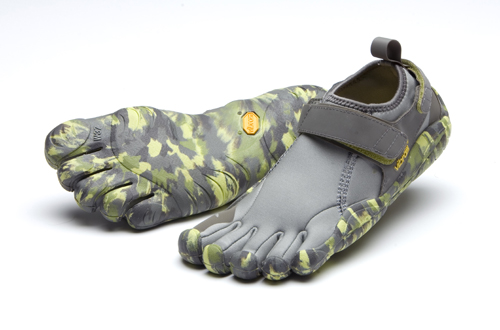 of the foot isn't mesh, but neoprene, it still is snug like the mesh. Being the same fit as the KSO's there isn't too much to stay about it.
Where the difference lies is the material design. The neoprene top makes the shoe a lot warmer, and therefore perfect for cold weather running, walking, etc. And even if that isn't warm enough, you can add a layer of Injinji socks into the shoe.
The Mocs are a very interesting feel. They are a loose shoe in general, not meant to be snug like the Classics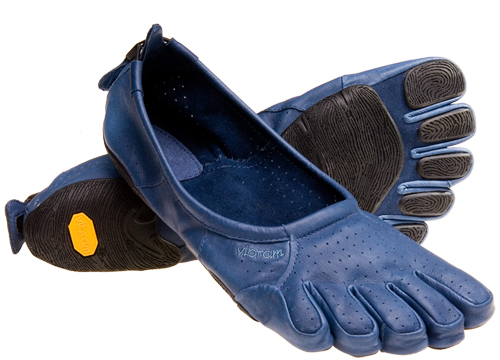 because they are for indoor use. So when I tried the shoes on I immediately noticed my toes and heel cup were loose. That being said the shoes still stayed on my foot when I walked around and generally felt rather comfortable. Yet again though, my feet are very low volume, so if you have a higher volume foot you might feel a bit snugger in them.
These shoes would be great for indoor use, easy to get on and off. Plus for the small amount of rubber sole it has, they are surprisingly very grippy.