Transcendent Warmth
by
Richard
12/05/2011 02:54:41 P.M.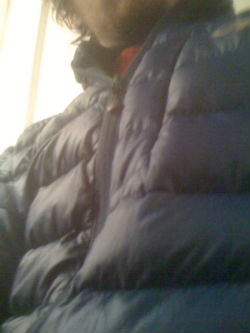 Last winter, I picked up an Outdoor Research Transcendent Sweater for the cold season.
Unfortunately, I also inherited the most thorough sickness I'd had in the last ten years. The doctor said it was flu and that I must simply wait it out, however long that may take. Begrudgingly, I saddled my car and headed back home to patiently wait for the illness to relinquish its grip on my preferences and time.
Exacerbating the situation was the fact that the Florida winter was surprisingly cold – the air easily permeated the poorly insulated outer-walls of my room.
I was cold, and felt physically miserable.
Then, I remembered my newest jacket: the Transcendent Sweater.
This jacket is 650+ fill down and surprisingly warm for its packability. Quite simply, nothing else in my wardrobe could keep me as warm and feel as unobtrusive on my body – and I have my fair share of winter clothing, coming from 18 years living in Michigan. I wore it most of the time while sick, because of sheer comfort level.
When I got the jacket, I had some initial reservations; I typically like hoodies, and it wasn't Arc'teryx (a brand that I typically favor because of fit). While the jacket is a little "boxy" (spacious in the chest cavity) and the sleeves a tad bit long for my arms (common issue I have in most brands), neither of those – nor the lack of hood (though a hooded version is ​​available) – were negative enough to detract from using this jacket domestically or in any future outdoor endeavors.​
All told, I was out of commission for 2 ½ weeks just prior to Christmas. I did not usually feel very good during that time, but as soon as I donned the Transcendent Jacket – one thing is for sure – I was not cold.