Trail Running and Biking Essential Accessories
by
Alley
10/17/2013 07:45:11 P.M.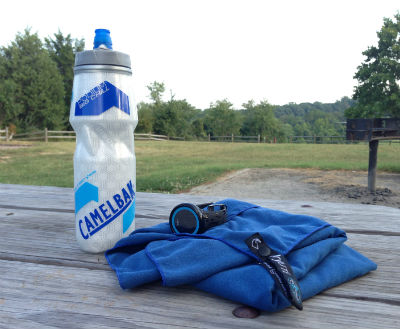 I have been in Virginia for 7 months now and have experienced the ins and outs of the trails here, both on bike and my own two feet. On a side note, there are hills everywhere! I used to live in Florida and we don't exactly have (m)any hills, but I must say, they're actually a fun challenge compared to what I was always used to. But regardless of locale, I want to talk about a couple essential items for day-to-day trail experiences (I could go on and on about how I like different options for trails shoes but you can check out my last post about that!)
25 oz. CamelBak Water Bottle
I'm not insinuating that you wouldn't think to take a water bottle with you outdoors… but the Podium Big Chill is actually a cool water bottle. The 25-ounce version is great size, even for sharing if you have to. The squeeze-factor is great for biking because it has a powerful stream and you can just shoot water out of the nozzle when dirt gets into it. When it's hot out, I pack in a few ice cubes into the wide mouth opening of the bottle. And because there's some insulation, the bottle actually helps to keep you more refreshed by keeping your water cooler for longer. If I don't have mine on my bike or in my hand, it stays chilled in the car longer than the other, cheaper (brand I won't name here) insulation bottle I have. Additionally, the Podium Big Chill was essential hiking around Great Falls Park this summer!
I have two of these so that I always have one of these towels available for my gear rotation. One of the small things that makes me so excited about this towel is the little loop and snap on the corner. Seriously, I love how practical it is and easy to hang up. I have the large Dry Lite Towel and extra small Dry Lite Towel. What makes the Dry Lite line great is made of a super absorbent and quick
drying fabric. I have been out camping in Ocala, FL and gotten completely drenched out on my bike on the Santos Trails. I was able to wring out all of my wet clothes by rolling them up in the XL Dry Lite towel. This helped my clothes dry out in a fraction of the time. The material is substantial and durable. Sometimes, I'll use it on the ground for planks or other body-weight ground moves after a trail run. Another time I grab the Dry Lite Towel it's for wiping off my dog feet before we get back in the car! I am telling you, they're up for whatever challenge you have for them, and you'll wonder what you ever did with out one...or two...or three.
Suunto M4
I have been using the Suunto M4 watch for about a year. Now, I won't work out with out it. It's extremely easy to use, and if you have any kind of physical goals you will love this watch. The M4 comes with a heart rate monitor that is comfortable to wear and boasts a long lasting battery. Go see the Suunto M4 and the rest of the line in person because there is definitely an option in the line up for you.
These three products bring another level of enjoyment to everyday trail adventures and, in my opinion, this selection of gear has the durability and quality that you need out of something that you will be using very frequently. These are the never-fail, go-to accessories that I would recommend purchasing and telling a friend about. Go on and check them out!