Thermarest Prolite Review
by
Dirk
01/17/2013 02:22:11 P.M.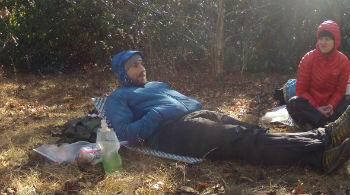 Three years ago I was making final preparations, having purchased gear for a 5,000-mile cycling trip that my friend and I were going to embark on. Among the items that I purchased was a Thermarest Prolite 1.5 inch thick sleeping pad. I chose this pad simply because of its weight to comfort/convenience ratio - while others might have suited fine this one fit the needs that I required and wanted.
First of all, I wanted a pad that was relatively light and that self inflated. Check. I figured if I was going to use this pad for almost 90 consecutive days I didn't want to blow out my lungs after huffing it over 70 miles of mountain roads on a daily basis. I wanted something that was in or around the budget (as with most pads) under $100- check. And almost most of all I wanted something that was compact, something that I could store in my cycling panniers and not have it exposed to the elements- check. I could have gone with a lesser expensive pad (like the Thermarest Z-lite) which would not only have saved me about $60, time spent blowing up a mattress, and 2 additional ounces of weight (as compared to the standard 16oz Prolite) - it just had a little too much bulk for my taste.
So off we went in May and completely abused our sleeping pads from constantly having to blow them up and roll them up for almost 88 consecutive days (not to mention other hiking trips that came after the cycling adventure). I absolutely loved this thing, it has a very beefy exterior fabric that is highly abrasion resistant and durable. In fact, since I've had the pad the only time I've actually gotten a hole in it was from a time when I packed it in my North Face Base Camp Duffle and checked it onto a plane to California for a hiking trip in Yosemite - I'm going to blame the airport baggage staff for this one! Regardless, the Prolite is so user friendly that if that were at all a concern a ultra light puncture repair kit is available to use for repair and comes with easy instructions to attend to the damaged areas. I repaired both holes in less than 5 minutes and my pad was ready to be used again.
The Prolite/self inflating series is so easy to use too, it does require some manual inflation but not nearly as much as the Thermarest Neo Air or Big Agnes Q-Core which requires a total amount of manual inflation (big breaths). They boast high comfort ratings with their more than 2 inches of cushion but require some time to blow up. With the self-inflating Prolite it's a bit easier:
Step 1: Roll out pad and let sit while preparing the rest of camp, fetching water, or doing other camp duties.
Step 2: if pad has risen at its pinnacle with out your assistance, give it a few good breaths to stiffen it up. I've noticed that with mine I only need about 2 or 3 good breaths to get it where I want it, and remember sometimes the pad is more comfortable when its not completely fully inflated (test out different levels of inflation for your preference).
Step 3: secure valve/ feel sorry for your friends who are turning purple from inflating their pads.
You'll also notice that there are different thicknesses of self inflating pads - usually that is associated with the "R-Value" the closer that number gets to or above 4 the more that pad is going to insulate you from the elements. The thicker the self inflating pad the more insulation properties it typically obtains (usually, but to be certain check the R-value). Don't forget that pads aren't just for comfort they're also for warmth. A warm sleeping bag for a winter trip matched with a pad rated for summer will result in a degradation of your sleeping bags comfort rating. You lose a lot of warmth to the frigid ground, so it's a good choice to consider that when purchasing your next sleeping pad.
Overall, the Prolite is my go to pad, I recently did an ultra light trip with a torso length Z-lite which did a really good job too, but if I were going to be out for more than just a few days, my prolite is going to come. It's been tried, tested, and has proved to be one of my favorite gear items in my pack. There is nothing like being warm and comfortable on a light and compact sleeping pad- if this is something that you might be interested in, then the Thermarest Prolite is for you.
** Men's regular sizes are 6 ft, so if you're taller than that, go with a long which typically is not only longer but wider also**