Sprint, KSO: The Two Best Fivefinger Models
by
Richard
11/16/2012 10:48:57 A.M.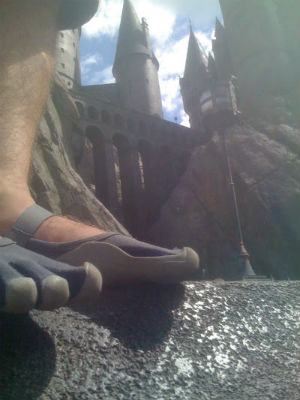 One of my first orders of business when I started working at Travel Country was purchasing a pair of Vibram Fivefinger Sprints. It was just over three years ago, and I was being enculcated with knowledge on store products from the likes of Brian, Chris, Wayne, Ryan, and others - extremely experienced outdoorsmen. But the Fivefingers, those were new. Those were the things that people didn't really have a phenomenal amount of knowledge on. In fact, often times people would come into the store and ask many questions - one of them was invariably "What are the long-term effects of wearing these shoes?" The answer, quite simply, was "We're not sure yet." We were going to have to figure out together.
And overtime, as we were amassing personal knowledge about the "shoes", I also came to own eight more pairs. (Though, this may seem contrary to the whole 'minimalist' thing, but most of these were so deeply discounted, or freely given to see what my thoughts were. And now, I've pushed a couple pair to others and have fewer.) In the process, my knowledge increased. I studied online. I considered how I felt while running. And I even made friends with Michael Sandler, Author of Barefoot Running.
All these things contributed to the growing knowledge that I had, but also that we had corporately, as an outdoor community within Travel Country. I even became the 'go-to' guy when talking about fitting, wearing, and extensive usage of Fivefingers. Indeed, Travel Country and I even started a barefoot running group on meetup.com.
Throughout all this time, I've come to the conclusion that the best Fivefingers around are the ones that have the least amount of tread. The thinest soles. They strengthen your feet the most by allowing for more flexibility. Essentially, they just get out of the way the best.
Heavier soled Fivefingers are good, in their own right: the leather Trek works surprisingly well for dressing up to go to work and for golfing (tremendous grip of the ground when hitting the ball), the Mocs were quite unobtrusive when walking around hardwood floors on cold days, the Treksport worked ok for soccer (but the grip was lacking on longer grass and striking the ball well was difficult), the Bikila LS is great for casual runs at night, the Bikila for running more aggressively and for playing basketball (they're actually amazing for this - I was flying around the court - really amazing), and the Trek LS looked nicest with dress clothes.
Then there's the models I haven't owned. The Flow, too thick. The Classic, great for just about anything not heavily athletic. The Komodosport, not comfortable on my foot. The SeeYa, nice and light. And the list goes on.
But the two, the most grand two of all the line, that are the best, in my opinion, are two of the first models that were made by Vibram.
With 2-3 mm of padding, they had much more flexibility than any other model (except for the leather household Moc, Performa, and Mary Jane - which are all discontinued). When you step on something in these, you feel it. This...is a good thing. I want to feel my muscles being challenged to work, my nerves to feel more acutely, and my body to react faster to what I feel underfoot - uninhibited by extra padding or theoretical support.
The Sprint (unfortunately discontinued as a men's style) is so incredibly light. It feels like you barely have anything on your foot. And it breathes well because the top is exposed, except for a strap that keeps it on your foot during athletic endeavors. It is also the only Fivefinger style that I ever felt extremely confident with people wearing if the heal-cup was a bit too big - since it has two straps that allow you to resize the tightness behind the achilles tendon. These are so easy to slip on, it's ridiculous. I can't tell you how many times I slipped them on in a matter of seconds while stopped at a red light, or late for an appointment before I ran out the door. The amount of great adventure I had in these shoes abound. I liked them so much, I bought a second pair when my first pair wore out (after over a year and a half of incessant use).
The KSO's are exactly the same, except they "keep things out" better than the Sprint. So, when I was landscaping, running in areas with lots of small debris, or it was cold outside, I'd don the KSO. Otherwise, the Sprint was my Fivefinger of choice. My shoe of choice.
And consequently, after all that study, I now confidently adhere to the belief that appropriate usage of the shoes (or going barefoot) - gradually strengthening your muscles, running for fun, and paying attention to how your body feels - can enable you to do so much more than you ever thought possible. Sound far-fetched? Try it. If you do so with prudence and wisdom, with diligence and with purpose - you won't regret it.