Shark Bite Challenge Paddleboard Race
by
Jason
04/17/2012 03:58:16 P.M.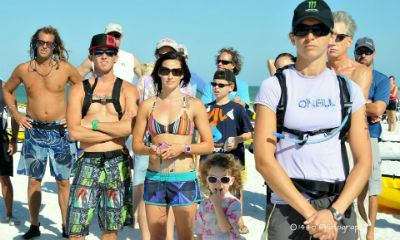 Jessica Cichra, and I, had an awesome weekend in Dunedin, FL for the Shark Bite Challenge and Paddle Fest! Outrigger canoe, SUP, Prone Paddleboard, Surfski, O.C. 1&2, Kayak and canoes! Over 181 people participated in this awesome event and props to all those who finished. The conditions were rough to say the least.
I raced my 12'6x26 brushed carbon Starboard "Battle Of the Paddle" board! It handled the conditions perfectly. The race was 8 miles of some 15-20mph headwind and some really awesome knee high chop downwind sections that at times made it feel like you were surfing! I'm happy to say I placed 2nd in my division of this great event. Jessica Cichra also raced her carbon Starboard B.O.P. 12'6x26 and got 1st in her age division for the 4 mile coarse!
We love Starboard! We've raced other boards and feel there is no comparison to the quality and performance. The reverse dihedral design of the 2012 BOP boards pierce right through oncoming waves and doesn't shoot out to the side like a lot of other boards do. The nose goes under and shoots straight up keeping your speed while punching through the chop. As for the downwind section this board is designed to surf small chop to legit size waves with ease. Our love for Starboard and the sport continue to grow everyday. Not many sports have dolphins swimming less than 10 foot away from you and gorgeous beach destinations. We love what we do and encourage everyone to try any and all paddle sports! Lets see how big we can get these awesome events!