My First Half-Marathon Trail Run
by
Andy
03/02/2012 11:45:13 A.M.
On a warm winter's morning I found myself in an unfamiliar place: lined up next to 300+ ambitious souls preparing to begin an organized trail run. My buddy Brian and I were running in a half marathon trail race. Our benevolent employer, Travel Country, sponsored us and we were outfitted with the latest gear (Brian in the New Balance Minimus and me in Inov8 F-Lite 195).
Brian, to his credit, already has a very impressive resume on his feet. He's completed the Triple Crown of hikes in the U.S. (the Appalachian, Continental Divide, and the Pacific Crest Trails), and has been a dedicated runner for 15 years. This race was not poised to be to much of a challenge for him. Me? I'd only been running for 8 months, and I had been a heavy smoker for years. The race was, for me, a test to see how good I'd gotten at running - and for Brian, a pretty stout opportunity to support his friend that he'd been coaching for the past few months.
The Florida Challenge is held in Alafia State Park just outside of Tampa, FL. The park is normally a mountain biking paradise, boasting a single-track series of step hills and tight corners, but on January 29th, it was one of Florida's toughest trail races of the year. Over 300 participants were out for the race that morning and that might have contributed to my slight bit of nerves. On the bright side, Runner's World named the trails at Alafia State Park one of America's top 25 Best Trail Runs in America, so at least we were in for some pretty scenery.
The race started out on the main road as to provide a bit more space for people to run before it bottle necked into a tight single-track speed way. I scanned the crowd and saw people of all ages. Older runners and young, skinny kids and people who looked like they just rolled off the couch. Regardless, we lined up midway in the back to see how things were going to play out. The alarm rang and we were off.
It was quickly apparent that we placed ourselves too far back. Less then 5 minutes into the race and we had arrived at the single track and were stuck behind a train of spandex coated earphone wearing roadrunners (no offense if this is you...nice spandex by the way). The single-track forced us to an almost painfully slow pace and we decided to make a move and start passing. Most people were very accommodating but a few seemed a little annoyed with our aggressive move. We tried to be nice "excuse us, mind if I sneak by?" we said, but some technically dressed badasses did not take kindly to our move and talked a little trash. It didn't faze us and in the matter of 20 minutes or so we were off on our own, leaving the spandex crumpy pants in the back.
I am not an accomplished runner but I know my skills and I know that I can keep a decent pace. We hit the open areas at about an 8:30 per mile pace and occasionally stepped it up to an 8 min pace. The nice thing about running in the woods is that there is plenty to look at. I had never been to this park but I must say that it is a beautiful stretch of Florida landscape.
The first half of the race was fairly smooth, flat with great coverage by the trees. We made good time and were catching up with the other runners. These runners were much nicer and offered words of encouragement as we passed
At about the 8-mile mark the hills started. This technical terrain forced us to stay in line for a short while but it didn't slow us down too much. My buddy and I stayed close until this portion of the race but we soon found ourselves separated. I glanced back to see what my buddy thought and got the thumbs up. From this point on I was on my own.
It is different running solo versus with a friend. With a friend you can talk about the pace, tell jokes, and generally just enjoy your time in the outdoors. When you're out on your own you tend to be a lot more focused on the run. I really started to push myself at this point and found myself focusing on my breathing and not think about my tired legs.
At mile 10-ish you come back by the finish line and see the crowds. I was a little mistaken and thought I was finished but my hopes quickly died as I realized we still had another 3+ miles to go. I dug down deep and decided that I was going to finish this race in 2 hours, which meant I needed to kick up the pace.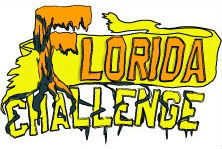 The hills continued and my legs, knees, and lungs were feeling it. I pushed the pain out of my mind and just tried to keep one foot in front of the other. I kept looking back hoping to see my buddy's bright yellow shirt coming up behind me but he had gotten sucked into the pack and decided to just enjoy the race and not kill himself. Me, I was on a mission.
I came up on a water station and saw the mile marker 12.6. "Less then 1 mile to go!" I thought and my watch read 1:50:00 so I kicked it into high gear, positive I would finish in 6-7 minutes. I continued to pass runners but when I looked at my watch and saw 1:58:00 I was beginning to lose hope. At 1 hour 59 minutes I was convinced that this race would never end and that I would die of old age out here. It seemed never ending.
I turned a corner and heard the crowd. "Hot Damn!" I thought to myself, "I am almost done". I turned one more corner and saw the race clock in the distance. The clock clicked over, 2:00:00. I broke into a sprint. By this point my shirt was off, I was dripping sweat, and I had a pain filled hateful look upon my face.
When I crossed the finish line my watch said 2:00:30. 30 seconds over my goal, but that didn't matter, I was filled with a sense of pride I had never felt. I was smiling ear to ear, and my legs felt like they were going to crumble beneath me.
A short while later I see my Brian coming up at a nice steady pace. I cheered him to the line and congratulated him on the strong finish. He explained to me that he got stuck on the roller coaster hills behind the pack and when he had a chance to break away I was already long gone.
I was externally weak at this point, and hungry. Brian grabbed some water and said "If I could get something to eat I would run this race again." I guess this is where the years of running (plus badass-ness) come into play.
I don't think I will run another half marathon. It was an amazing course that I would highly recommend to anyone, but not for me. I am setting my sights higher. I want to see how far I can go, maybe an ultra marathon? As far as I'm concerned, there isn't anything I can't do.
I want to send my deepest thanks to Tamprace.com for hosting this amazing event and to Travel Country for sponsoring us. I also want to thank my running buddy Brian, I couldn't do this without his amazing insight and advice, appreciate it man.