Review on the Starboard Cruiser Paddleboard
by
Dirk
05/27/2012 05:48:35 P.M.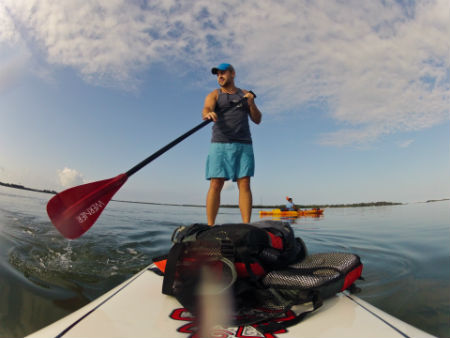 I had a horrible first experience with a SUP ("stand up paddleboard" for the lay-person).
It was a year ago in the ocean; conditions were choppy, there were horrible cross winds, and it was my first time on a paddleboard. That combination resulted in me spending more time in the water than on the board. (Oh, and did I mention I'm scared of sharks?)
The second experience, however - which was on a lake - is when I truly fell in love with this unique sport. After about 20 minutes of trying, a couple falls into the water (more fun than troublesome), I was paddling like a pro. And the experience was wonderful. You feel like you're standing on the water - gliding even. You have the freedom to move around, or jump in. You can stand, sit, crouch, lay down - whatever is your preference. And above all, it is extremely peaceful.
Since then, I've used it all over the state; including Wekiva Springs State Park - to sight see, Lake Maitland - where I caught my first bass, and the Atlantic Ocean - where I saw sharks, sting rays, and paddled with dolphins.
The latest trip - which i took last month - I spent my entire Sunday on the water in St. Pete and it turned out to be probably my BEST experience in Florida, to date.
Shortly after arriving at sunrise, my friend Terrence (who was in a kayak) and I (on my SUP) started out to go explore the Shell Key Preserve. Less than 10 minutes into the trip - I started noticing string rays, tons of fish, horse shoe crabs, and not too long after that I saw my first shark gliding through the shallow water!!
Terrence, because he was in a kayak, wasn't able to see the shark that was a mere 15- 20 ft away from him. The low perspective of his kayak took away from him getting a taste of the exceptional experience I was able to have. The view from a paddleboard is a benefit that should not go unnoticed.
I knew very quicly that paddleboarding is amazing. But with time (and after trying other boards), I've come to realize how amazing my board is as well.
There are several benefits to the Starboard Cruiser that won over my heart when I compared it to some of the other boards that our store carries.
First of all it's a twelve and a half foot long board - meaning that it tracks (goes straight) really well. Generally speaking, shorter boards turn faster; longer boards go straighter and generally glide better. Also with a 30" width the board has really good stability when in choppy conditions or when boats throw wakes in your direction. Regardless if you have good balance or not, your legs are going to feel like spaghetti on the initial voyage, but my personal experience with teaching friends new to the sport how to paddle board is that the learning curve is really steep in this area.
Another thing that I really like about my cruiser is that it has lash tabs, where you can attach waterproof dry bags (I usually use the models from OR or SealLine) and other sorts of gear that I might need when I'm spending a day on the water. If it weren't for the tabs I would have to haul a backpack with the hope that it doesn't plunge into the water with all my goodies.
All told, this board can handle a passenger weight of up to 250 lbs and still perform well in the water. The fact that the board, itself, weighs around 30 pounds makes it easy to transport on my car with a soft rack and even easier to transport to the water.
My Starboard Cruiser isn't the fastest board in town, but it's length and features certainly make it a very practical board to have. It tracks well, has a lot of stability, and is easy to transport. If you're looking for something unique and fun to do on weekends, or just looking for another reason to spend some time on the water, a stand up paddleboard should certainly be on your list of considerations - as it is going to be the most versatile toy you can have on the water - you can surf it, cruise it, fish from it, or sight see on it. Highly recommended, the most fun you'll ever have on the water!
Ps - Don't forget to buy a PFD and have a whistle attached to it when you're not in a surf zone - for most ages you don't have to wear it, you just have to have it on your board with you. No one likes to get tickets (unless they're winning lottery tickets).