Review of Salomon XR Mission Shoes
by
Alley
06/20/2013 07:26:38 P.M.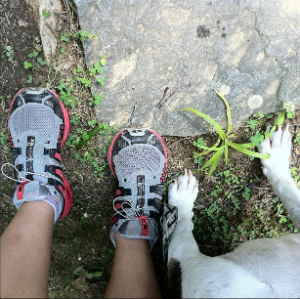 My favorite part of working out outdoors has always been having a variety of options for moving around. Whether I feel like biking, running, or hiking today...going solo, with a friend, or my dog...what gets me excited about getting outside are the OPTIONS!
When it came to looking for another trail shoe to fit into my arsenal, I knew I wanted stability, but with a considerably low heel-to-toe drop—less shoe than Salomon XA Pro 3D Ultra, more than New Balance Minimus 10s.
Enter the women's Salomon XR Mission shoes! Overall, the fit is generous, with a nice wide toe-box, enabling the forefoot to spread naturally. They are just light enough, and have a flared heel for stability. I find the XR Missions to have a "snappy" feel under my mid-foot strike, meaning the shoe isn't too cushy or stiff and again provides stability. These features make my steps very responsive when trail running here in Northern Virginia. Also, tread really grabs the trail, even the slick rocks are conquered when I go through local streams.
Technically, the shoe has a 10 mm heel-to-toe drop, which fits in nicely to my assortment of outdoor shoes. I like to use barefoot options, minimalist options, and traditional options in footwear depending on the type of day it's going to be. Honestly, these have become my go-to pair for the typical 3 mile trail or pavement run.
I'd like to mention I will generally wear an 8.5 or 9 in women's outdoor shoes, and I'm not a true wide but I stay away from narrower shoes. In Salomon I own both 8.5s and 9s. I also have the Salomon XR Mission CS version with the weather resistant outer finish. This model has a smidgen less volume inside the shoe, but I still fit perfectly in an 8.5, unless I were to wear a very bulky sock. Like I said, I like to have options, and the XR Mission CS is my option for muddy or misty runs which have been abundant during this year's start of summer. They have held up well, and have still have lots of tread after putting-in about 120 miles.
I really enjoy running in the Salomon XR Missions and XR Mission CS. I would recommend the previous as an everyday training option, and even a light hiker. The adventurer who is new to Salomon footwear will find the quick laces convenient, especially when in dense brush, since the laces and loops are tucked out of the way. I'm always impressed with how Salomon's shoes just have a tank-like, solid construction.
Recently, my favorite moment in these kicks was out on my neighborhood trail. At about a quarter-mile, my body was finally opening up to the run. This is always my favorite moment, when it feels like I've got lots of horsepower and speed. Passing river rocks, jagged roots, thick mud, and smelling the yummy Northern Virginia spring air, my ride in the XR Missions was stable and and my pace was going strong. In that moment it was just me in the quiet forest, listening to my pace and my breathing, just competing with my self… And I felt super strong! I hope you can feel the same way in your own Salomon XR Missions.