Preparing for my first 18 hour Adventure Race
by
The Brit
07/19/2010 03:54:11 P.M.
I've been participating in Adventure Races with Pangea Adventure Racing here in Orlando for over a year now. My first one was a wakeup to how out of shape I was, but I still managed to complete the 5 hour race. We didn't place great in that race, but we weren't at the bottom of the rankings either. After that race I was crazy enough to sign up for more and attempt to increase my fitness and endurance level. It's hard to say if I have been improving since you can always continually work on muscle strength and endurance, but each race I felt better and better at the finish line. Now I'm approaching my biggest milestone in Adventure Racing, an 18 hour race, mostly through the dark called the Nocturnal Challenge.
When writing down your gear list and gathering food and water for an 18 hour race you have to think a lot differently than a short 5 or 8 hour race. We start at 2pm when the heat is strongest in Florida (it will feel 100+) and go till 8am the next morning. At the forefront of my concerns is the heat we will be facing from the start of the race. The possibility of dehydration, or worse, in the first leg of the race will cripple our muscles and bodies for the rest of the day. Luckily the sun will go down but we still will run into problems of endurance and sleep deprivation during the night. To say the least, I'm a little bit nervous.
To survive the heat and keep up our endurance we have a gear list and a plan to hopefully get us through 18 hours of running, biking and canoeing.
General Gear:
Buff Headwear
Swiss Army Knife
Bike Spare Tire Kit
Hydration:
Food:
Salt Pills
Cliff Energy Bars
PowerBar Energy Gels
GU Energy Gels
High in starch Food like Mashpotatoes
Usually for a race I just carry my Camelbak Octane XCT+ with a 70 oz bladder which lasts me for 5 hours and one bottle on my bike. However this race is quite a bit longer so I have two bottles that will rotate between my bike and cooler, switching them when I get to the transition area. I also have another hydration pack that I will use for mountain biking so I can make my Camelbak last longer on the run and canoe sections.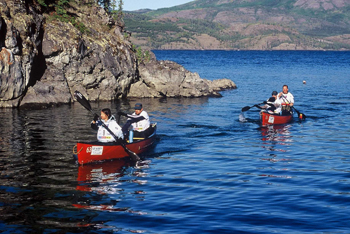 For food I need to focus on consuming enough calories to carry me through the whole race. This means alternating between a bar and a gel every other hour. Since it's an extended race, when we arrive at the transition area we will be eating a more sustainable easy to digest meal like mashpotatoes. This will be great because they rest easy in the stomach and have lots of starches. I'm also going to take salt pills during the first section of the race to hopefully combat any cramps I might get.
Some different gear I'm utilizing this race are my two pairs of New Balance MT100s that I run in. This weekend I'll take both in case one pair gets really dirty and caked in mud which would make it a lot heavier than usual. I'll also be using compression leg socks after the race to hopefully make my recovery a lot faster. This will also be my first race in the dark so it will be whole different ball game when I'm running, biking and canoeing using headlamps.
I'm incredibly excited, nervous, (and close to biting my fingernails off) as the date of the race looms closer (Saturday the 24th is the start). Hopefully my body will be able to make it over that finish line at 8am, exhausted but rather happy.
-The Brit