Petzl E+LITE for More Than Just Emergencies
by
Dirk
01/03/2013 03:04:37 P.M.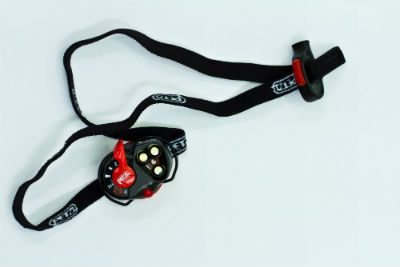 Most people sleep when its dark, and thrive when it's light - it seems as if that's just a part of human nature. For those who dare venture into the wilderness in a more vulnerable state, with stars above their head and trails dressed in silver, they may do so by utilizing modern day high-powered headlamps.
I recently discovered the joy of hiking in the night. Until recently, I had reserved this exclusively for emergency situations or highly ambitious mileage goals gone wrong. On my last trip to the AT, a couple co-workers and I punched out some big mile days, which necessitated that we almost certainly were going to spend time walking through the dark.
Armed with my lightweight Petzl E+LITE, I realized the true value and functionality of this ultra light "emergency" headlamp.
First things first, I never thought I could use this tiny light to hike with. In fact it was a compromise between that or using my Black Diamond Spot 90 on an 80 mile trip on the A.T. At the time, however, weight was my biggest concern, so I opted for the smaller light at a compromise to the amount of light my lamp could produce. The comparison between this light and the Petzl Tikka lights my two co-workers wore bore no comparison - theirs were definitely brighter when we hiked. Though, I don't think I was at an overall disadvantage. I could see obstacles fine in front of me, and the E+Lite functioned perfectly at camp, particularly with its red light and brightness options. In fact, the only distinctive difference between their Tikkas and my E+LITE came when trying to notice signs down the trail or seeing through rain as it was misting.
The benefits were stark. Mine was super light. So light, in fact, that I caught myself wearing it around my neck from dawn to dusk without even noticing. That in my opinion is its biggest benefit: it only weighs .98 ounces and boasts an adjustable head strap (which has an emergency whistle on it). Petzl actually just released a newer more powerful version (relatively to the previous model) that has a Zipka strap instead of an elastic band.
After spending more than 12 hours in 3 days walking through the night with my E+LITE, I will never consider this tiny light as a backup to a larger one. In fact it can easily supplement a larger light for the weight conscious hiker. The stigma that its an "emergency" light only should only go into play when you either plan on hiking in the dark a lot, or are going to depend on your headlamp for activities where the margin of error is low (like rappelling at night after climbing/navigating unmarked trails for example). If you're going to a familiar place (for me it's the AT) or if you plan on packing light - the E+LITE is an excellent choice for the minimalist backpacker.