Pacifico Paddle Challenge
by
Jason
11/13/2012 10:31:26 A.M.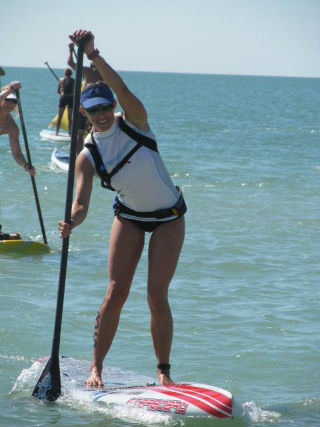 It was an awesome time this weekend at the 2nd annual Pacifico Paddle Challenge in St. Pete, FL. We were so stoked to race at the last stop of the SUP Splash series. It's probably one of the biggest SUP race series in the U.S. and I believe it's just going to keep getting bigger - with 130 racers total (participating in the short/long/kids/relay courses) and a great location on the beach in front of the beautiful Postcard Inn. Grace Marcel, Shane Waterboy Webb and all the wonderful volunteers did a fantastic job putting this epic event together, with partial proceeds benefiting St. Jude's Children's Research Hospital.
The conditions were great, but a tad windy at times. There was llittle to no chop, as winds were about 12mph or less. The start was really fun with over 70 elite racers bottlenecking at the first buoy turn. 4 laps, 9 zig zag buoy turns in each lap with a beach run between each lap. My favorite part was running down the beach with my Werner paddle in hand and jumping on my board, so that it was already gliding fast enough for me to stand up and start paddling immediately. So fun! I caught a couple small bumps coming in from the south outside buoy as well. There were lots of fun sections of the race and some awesome buoy turns. I was a bit sore and hungry at the end, so I squeezed a Pocket Fuel down and was back to normal: blueberry and banana, my favorite! Everyone was filled with aloha, while sharing the sport we all love through this friendly competition. It really makes me happy!
Starboard team riders came out and really did a great job in the men's and women's 12'6" class. Congratulations to Girard Middleton who came in 15th on a BOP board, Jessica Cichra who came in 7th on her BOP as well, I came in 9th on a 2013 12'6x30" Touring in brushed carbon, and Dan Gavere, Starboard's Whitewater Specialist who came in first place (taking home the $700 cash prize) on his 2012 custom Starboard Mullet prototype.
Big mahalo to all of our sponsors for all the awesome gear and support. We couldn't do it without them. Travel Country Outdoors, Werner Paddles, Hinano Tahiti, Pocket Fuel Naturals and Starboard SUP.
And a big mahalo to all the awesome sponsors of the race: Pacifico Beer, Jimmy Lewis, One World, Sun Bum, Ocean Minded, Quicksilver, Riviera Paddlesurf, Solstice Sports, Sailor Jerry, Surfrider Foundation, Sun Coast Surf Shop, Oakley, Urban Kai, Sharks creative, SUP Paddleboard.com, Neilson Surf Shop, Postcard Inn and St. Jude's Children's Research Hospital.