Outdoor Experience
by
Richard
07/24/2013 07:19:18 P.M.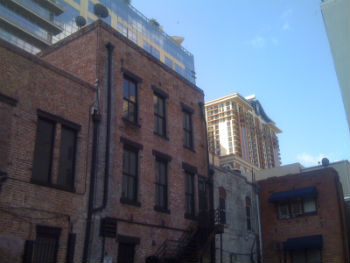 The first time I visited Travel Country, I was visiting Orlando on a vacation. I walked in the door and my heart said "yes." I had no idea there could be a successful outdoor retail store so far from the mountains (and so centrally located to the humid flatlands). When I moved to Orlando four months later, I soon found out.
After random jaunts into the store, I started building up a collection of gear that enabled me to get rid of a lot of my clothing, and any old, dated gear that I had. Arc'teryx, Patagonia, North Face, and Outdoor Research projects were the order of the day—and I obtained a fair share of them. But it was the relationships I built with people at Travel Country that really set that place apart.
Mostly importantly, the people who have worked there are phenomenal—as individuals. They're not perfect of course, but still really stellar. Those men and women have had some serious experience: as river guides, long-distance hikers, expert kayakers, strong climbers, world class (as well as local class) adventurers, etc.
I saw people get fitted for trips to the top of Kilimanjaro, the base camp of Everest, the swampland of the Everglades, the rain-soaked summer afternoons at the Magic Kingdom, and most everywhere else it seemed.
And the knowledge was always next level.
Though not everyone has been everywhere or done everything, there are prudent enough to get you to the right person, whether you've got to wait a day or two, or whether the right person is some person they've met along the way that has just the right information for them. That's the type of thing that I'll never cease to appreciate from Travel Country, even after I got a job there and worked for years before moving on to write full-time. The people are great. Their wisdom is broad, and their friendship is valued.
If you've not been to Travel Country (whether you live in Orlando or not), it is a place you must stop in. For the gear, sure. But for the staff and their superb ability to both educate and be superb people at the same time.