Orange Bowl Paddle Championship: Part 2
by
Jessica
01/20/2013 06:32:37 P.M.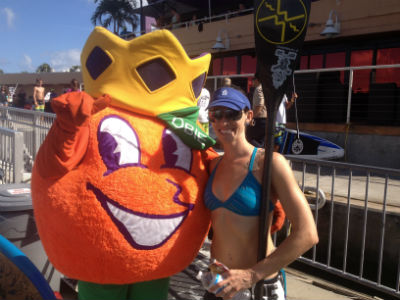 The Orange Bowl Paddle Championships on Sunday 1/13/13, powered by Jimmy Lewis, kicked off the new year with what proved to be a highly challenging course & a very well attended event, drawing international & local professional & competitive paddlers alike! The event was held at Bayside Marketplace, bordering Hard Rock Café Miami in sunny downtown Miami, Florida.
This charity-driven event included 3 courses: 7 mile Elite, 4 mile Recreational, & Sprints, all winding through Biscayne Bay & the Miami River with an urban backdrop of downtown buildings & marinas. The proceeds of the race being donated to Big Brothers Big Sisters of Greater Miami to fund mentorship activities in the area.
The conditions were tough, not only racing against the best of the best in international competitive SUP racing, but the winds were high, mainly side wind pushing 2 foot side chop for a good ¾ of the entire course distance. This side chop was often met by reverberated chop coming off the seawall on the opposite border of the route, creating 3 foot chop & a washer machine-like effect for about ½ the entire length of the course. This was a true test of stability for both the skills of each paddler & the design of their chosen SUP. The starting line was nestled within a beautiful marina, my Maui Jim Sugar Beach shades providing a crystal clear image of dolphins fishing & playing! It was a wave start, with division by division funneling into the first narrow turn toward the bay. The first leg of the Elite race, heading into Biscayne Bay was telling of the insane challenge ahead, being met by straight side wind, chop & reverb, paddlers were getting tossed left & right! My Starboard BOP 12'6"x26", sold by TravelCountry, was made for these conditions providing great stability & I was able to stay on my board throughout the course. This first leg was also a test of muscular endurance, having to paddle only on the right side for almost 2 miles to combat the side wind, then making a right-shoulder buoy turn & heading back, having to paddle only on the left side for the same distance. My Werner Grand Prix S1000 was the perfect paddle choice, being incredibly lightweight with a smaller surface-area blade to reduce muscular fatigue, yet durable enough to power me through the wind & chop!
Heading into the Miami River, there was a slight & much-appreciated reprieve from the side wind, with about a ½ mile of downwind conditions & physical restoration. Making a right-shoulder buoy turn, I was met by strong headwind gusts, battling it out until making a left turn through a wider canal system with strong current from the right, combined with strong wind from the left…nearing the end of the race I could only smile with humility! Paddling back into the marina from which we began, I was greeted by cheering paddlers & spectators, crossing the finish line with electronic timing system & feeling very accomplished & humbled.
The Rec race began soon after, followed by fun heats of Sprint races & lunch by Hard Rock Café. The awards ceremony was electrified with excitement from top-placing athletes, winning big cash prizes of oversized checks, trophies & medals! This second OBPC proved to be highly successful with 236 entries & fun had by all! A big mahalo to my sponsors, TravelCountry, Werner Paddles, Starboard, Maui Jim, & Hinano Tahiti for their continued support & encouragement!