Missing River Adventure Race
by
Shannon
05/03/2010 01:30:40 P.M.
Race Location: River Rise Preserve State Park Race Time: 8 hours Checkpoints completed: 20/24 Completed Time: 7:43:55 Trek 1: 00:53:00 Bike 1: 01:16:00 Boat: 03:35:00 Bike 2: 01:19:55
On Saturday May 1st, 2010 theTravelCountry.com employee adventure racing team competed in our longest yet adventure race. For 8 hours we biked, ran, hiked, and canoed through River Rise Preserve State Park, which is just North of Gainesville. It was an incredible experience for all of us that tested our bodies and devotion to the team and sport.
In Pangea's adventure races there are two divisions, sport and elite. The basic difference is one is shorter one is longer. The bigger difference is elite races push the boundaries of endurance, navigating, and skill in adventure racing.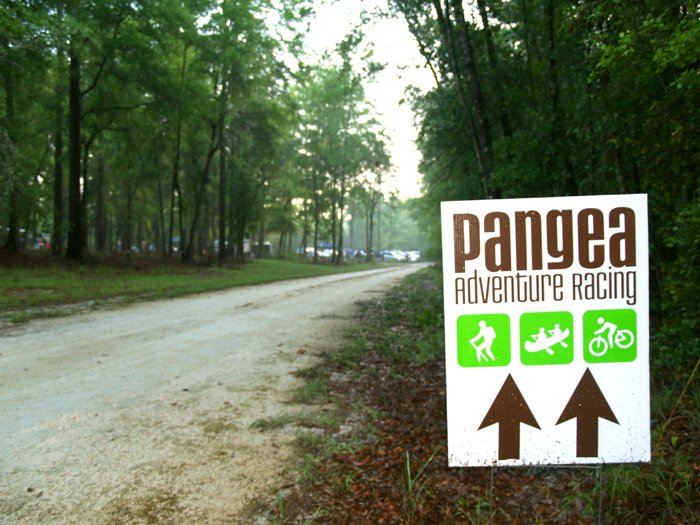 The team members for this race were Brian B, John W, and myself (Shannon L). The three of us have run several races together and we get along incredibly well on the trail. Brian Burlingame has done an elite race at Travelcountry.com before, as well as a few sport adventure races locally. In contrast, it was John and my first elite race.
We stayed the night in Gainesville because the race start was at 7:30 AM. We already knew that it was going to be the hottest day of the year so far, so we all hydrated days before. We woke up, packed the cars and drove up to River Rise Preserve. It didn't take us too long, minus taking the wrong exit off the interstate; we arrived and started getting the gear ready. We made a checkpoint for us near the start/finish with all our gear for the run, bike, and paddling. After consuming some high protein breakfast we were ready for the race to the start, with some small butterflies in our stomach (John and I weren't so sure how well we'd do).
To figure out if you run or bike first you draw a marble out from a bag, white for trek, red for bike. We were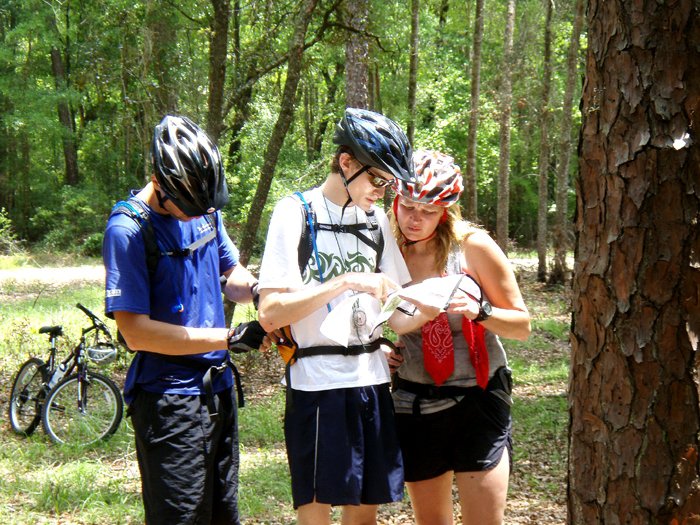 hoping for the trek first because it's easier to bike after a run then run after a bike, but alas we ended up biking first. We geared up and waited at the start finish till Greg, the race coordinator, told us to start.
The very start wasn't as fast as we wanted to pace ourselves because all the bikes were clumped together and that meant getting stuck behind slow bikes. We also missed our first turn, we kept going not realizing it till we stopped for our first checkpoint and found a different one then what we needed. Once finding where we actually were on the map, we realized we might have made happy mistake as we now had an easier course ahead of us then if we had taken the first turn.
We sailed through the bike course doing the best time we ever have on a Pangea bike section. We got all of the Checkpoints and then proceeded back to the start/finish to head out on the trek. The trek was easy in terms of navigating trails but we had some difficulty finding some of the checkpoints because the map wasn't totally accurate and our distance counting wasn't totally accurate. So when we could have been running and saving time, we were walking and searching, so we finished the Trek a little later then most teams but still within our goal of under an hour.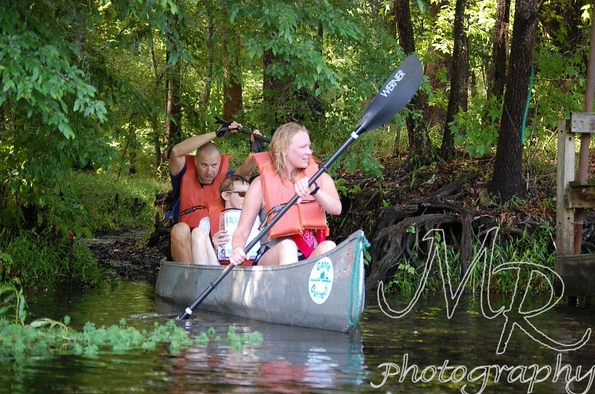 After returning to the start/finish from the trek we got on our bikes and biked half a mile to the canoe put in. The canoeing was probably our most disappointing part of the adventure race. We put in with two kayak paddles and headed up river. As we got closer to the end of the 2 mile up river paddle we saw teams heading back. Other three person teams had 3 paddles! We thought we were only allowed 2 paddles! Upset at ourselves and the lack of information we had, we raced on. We finally reached the beginning of the river, where the Santé Fe River comes above ground again. We paddled another 2 miles downriver and picked up another paddle at the canoe checkpoint. We traveled another 2 miles downstream and 2 miles upstream. In total the canoe was our longest part of the journey, and in comparison to other teams it put us behind quite a bit. If we had 3 paddles the entire time we might have placed a little bit better.
Four hours of canoeing on the river under the sun sucked a lot out of us, but we still had the final section of biking and trekking to do. We biked back to the start/finish starting to feel a little dehydrated and worn out. For the final part of the race we had to bike up to a Bike TA. The ride took us 40 minutes by itself and when there we needed to get 3 bike checkpoints and 3 trek checkpoints. We rested for a bit at the TA and looked at our options. Basically we didn't have enough time to get all of them, probably not even most of them, so we weighed in the running or the biking. The biking, although we were weak at that point, we thought would be easier than running in the hot exposed sun. So we set off and picked up two bike checkpoints. We could have gone for a third bike checkpoint or done one on the trekking but that would have made time very tight. So we decided to head on back to the start/finish and end the race.
We were one of the first teams back, most still out on the course struggling to get points and make it back on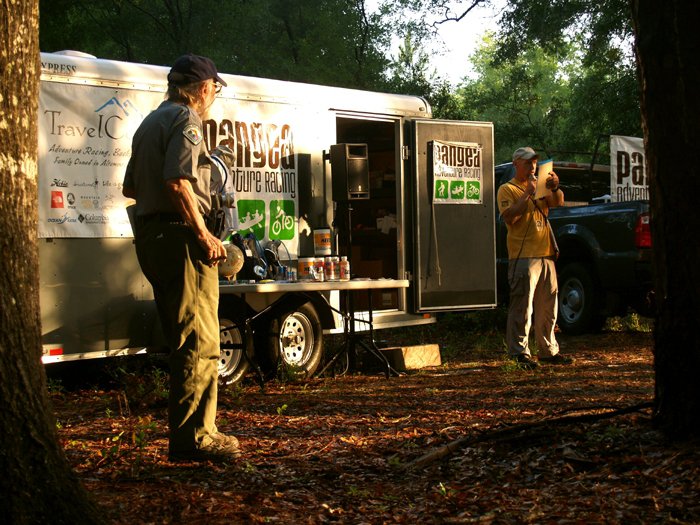 time. In the end, most teams didn't make it back on time, so for every 10 minutes they were deducted one point. Looking back on the race and our decision to head home instead of going for one more checkpoints was the best decision we could have made.
So we sat back, drank some beers, ate some food, and enjoyed the feeling of doing great at our first elite race. That night the preliminarily results were posted and we felt even better, 6thplace out of 19 elite teams. Now only if we had that extra paddle…