Merrell's Tough Glove
by
Richard
12/14/2012 01:23:48 P.M.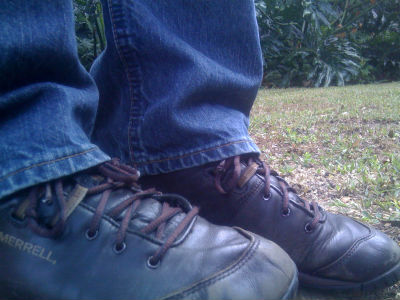 When I ordered the Merrell Tough Glove a year - or two - ago, I thought that they'd be a footnote (pun intended, thank you) to my footwear collection. Even though I'm a bit of a minimalist, by lifestyle, I thought that I'd more frequently don my Vibram Fivefingers or a pair of my huaraches.
I was wrong.
Though I still believe that less-is-more with shoe soles, I've ended up wearing the Tough Glove far more than my Vibram Fivefingers in recent months. Don't get me wrong, I'm still a major advocate of the Fivefingers - I just didn't realize how commonplace and beneficial the Tough Glove would be/have been.
I've subjected these shoes to a rigorous regimen of landscaping, running, climbing trees, and any other type of outdoor activity you can thing of. And they've held up. When I gave them fully to regular outdoor, grunt work, I figured they were a lost 'cause. But even recently, after doing nothing but occasionally throwing the shoes in the washer and dryer, I've worn them out on the town with dress slacks or jeans and I've gotten numerous positive comments about them.
I wasn't trying to make a statement, I just wanted to be comfortable, or maybe to match a little bit.
But similar to their responses, the shoes versatility have surprised me. And though I wish there was a bit less distance between my foot and the ground, when wearing these, I think I'll keep donning them; at least until they wear out...which may be quite a while from now.