Mayor's River Fest Race #2!
by
Jessica
03/21/2013 10:35:06 A.M.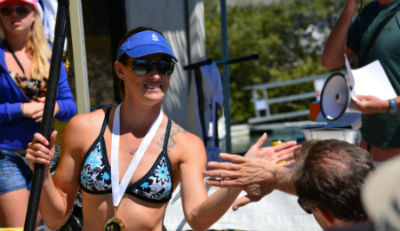 The Mayor's River Fest Paddle Race Series, hosted by Paddleboard New Smyrna Beach and Mayor Adam Barringer, sponsored by Landshark Lager, was created as part of a community wellness initiative focusing on fun & healthy living. Race #2 of 4 in the series, was held on Saturday, March 16th at 10 am. It was a considerably longer course than Race #1, with a 5 mile long course and a 2 mile short course. Race #2 also boasted an increase in attendance with a total of 80 paddlers, an additional Tandem SUP division, and the Mayor fulfilled his promise made at Race #1 to enter & paddle in Race #2's short course!
The short course was an out and back route, that was held in completely protected waters. It began in the lagoon behind Paddleboard NSB's storefront location, ran down a larger canal and eventually turned into a shorter canal where the buoy turn was made at the halfway point. The course was designed for all levels, including first time stand up paddleboard racers.
The long course was a looping route and began in the same lagoon. It was a beautiful, sunny morning with an invigorating chill in the air. Wind conditions were light to moderate. I wore Hyperflex Wetsuit boots, which were all I needed to keep warm. The course was fun, though the start was a bit turbulent as paddlers funneled underneath the first of five bridges and then into a canal. We made a sharp right turn into the intracoastal river and underneath the second bridge where we hit some headwind and current. I caught up to my training partner Heather Kaarup and we began drafting each other, working as a team to increase our pace and onserve energy. We made a reverse s-curve, passing a green island on our right, then meandering left underneath the third bridge. We picked our line and cut diagonally across the river toward the next, boatdock-lined island seeking some wind protection.
We rounded the entire island - during which we had to paddle from a deep chair squat to get underneath a short bridge - and started making our return with the wind at our back! That was the fastest leg of my race, and riding my Starboard BOP 12'6" x 26", sold by Travel Country, was a blast as it really accelerated in the downstream (and downwind) conditions, catching all the little bumps. Approaching the opposite side of the green island, my Maui Jim Sugar Beach shades gave me a crystal clear view of a pair of dolphins smoothly gliding by and warming my heart with a nice visual during a competitive race. The course made a sharp left turn underneath the fifth, and final, bridge. That was our cue that it was time to pull away from our draft and let the sprint to the finish be on! I choked up on my Werner Grand Prix S1000 (also sold by Travel Country) and battled it out to the finish line, coming in 3rd overall in the Women's Long Course with a time of 60:25 min.
Lunch was served and followed by an awesome award's ceremony with Wave of Wellness team Riders Albert Cichra coming in 3rd overall in Men's 12'6" Long Course and 1st in the 50+ age group. My friend Evey Hammond camein 1st overall in Women's Long Course! The top 3 placements in all divisions were awarded medals & the first place finishers overall won carbon fiber paddles! The entire event was highly organized, charged with energy, and best of all – fun! As always I extend a big "mahalo" to all my sponsors, TravelCountry, Werner Paddles, Starboard, Maui Jim, Hyperflex Wetsuit, & Hinano Tahiti for their continued support & encouragement!