How to Pick the Right Water Filter
by
Dirk
10/03/2012 02:17:27 P.M.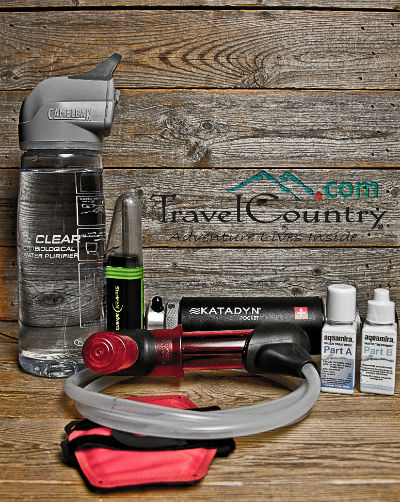 The first time I ever went hiking (the kind of hiking that doesn't just involve packing tons of snack foods and pb&j sandwiches) was a few years ago on the Appalachian Trail in Georgia. I don't exactly remember the fine details of how I found myself looking at the trail head of the Appalachian Trail in Amicalola Falls, but I do know that it didn't take much convincing from my friend's dad to get me there. I was excited about the views, the chilly weather, and - probably most of all - getting to drink "fresh mountain water." To this day, it still remains one of my favorite things about hiking in the wilderness - but first things first, you have to know how to be able to safely enjoy it.
Before my first ever hiking trip I spent a lot of time on websites that in hopes to figure out the type of water treatment or filter to take along. I read that the Appalachian Trail has relatively clean water but I didn't want to take a chance of ingesting any kind of harmful bacteria that could ruin the trip. I also wasn't particularly fond of the vision of having to run for a hole in the ground if my bowels demanded so from contaminated water. So after some information overload I discovered that there are truly only 3 different types of water treatments, all which have their benefits and hindrances- depending on what your mission is on the trip.

So this is the breakdown of what I then discovered (and now know). Here are 3 of the most common types of treatments in the outdoor market :
Water filter (like…

Usually allows tasting the delicious water (due to a carbon filter)

Removes contaminants up to a certain micron size

With proper use and care can give a much longer life than most other options

Filters out yuckies in water

Safe to drink right away

Chemical treatments (like….

Light weight

Typically kills EVERYTHING in water (with proper insructions and if it's labled as a

purifier

) including water

Usually has an aftertaste

Usually has a time period so that chemicals can react 15 mins – 4 hrs depending on water conditions.

You'd have to use a bandana or clean water source to eliminate any yuckies in the water

Ultraviolet treatments (like…

Light weight

Deactivates everything that can harm your body if used properly, and can deactivate virus' if used properly

Can only usually treat a small amount of water at a time, but is safe to drink right away

You'd also have to use a bandana or clean water source to filter out yuckies

Battery operated- don't let it be the only thing that gives you access to safe drinking water
Whether I take one of any of these is exclusively based on what activities I was doing.

For example on my first hiking trip I took a water filter with me on the Appalachian Trail because research and expert advice from hikers suggested that the water is typically safe to drink - so, there was no need to worry about tablets. It helped a lot too because there were several water sources that would have been difficult to access if I had only had a water bottle. The only downside to the filter in that case was that it was heavy, so when I went back to the AT last November on the exact same 40 mile route, I decided to take purification tablets (even though I didn't get to enjoy the all around taste of the water) - the weight of my pack being more of a concern on that particular trip. When I spent 45 days driving across Africa as a crew member on an expedition team I doubled up - I took purification tabs in my medical kit and an ultraviolet purifier in case I ever needed to purify water out of a faucet or sink (typically in 3rd world countries you don't want to risk drinking their water even if its out of hotels. Unless they say its safe to drink, their purification standards/regulations aren't always up to par as what we have here in the US)

So from all my research and experience with the outdoors, there are several guidelines that I always follow no matter what. No matter what I choose, I always have some purification tablets in my medical kit. You never know when you might need them, and sometimes throwing them in your bag during a day hike, can save you from a dehydrated trip down to your camp. A few months ago I did just that while hiking in Yosemite and when we came to a water source the other guys were skeptical if it were safe or not. Luckily, I brought the tablets (I was their hero for the day).

So next time you consider traveling, hiking, or when the next natural disaster threatens your well being, there is never a reason to not have safe drinking water. Depending on what you do, or where you go, or even where you live - you can't go wrong with having some spare tablets, a water filter, or an ultraviolet treatment device laying around. Think about it this way, you can go almost a month without eating, but less than 4 days without drinking.