Hobie Review - Revolution 13' Kayak
by
Spencer
02/08/2013 03:48:48 P.M.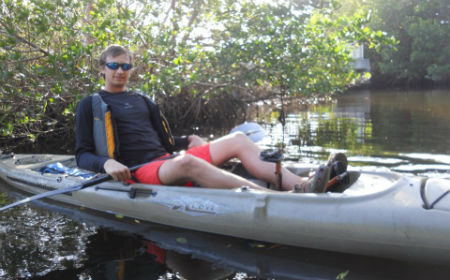 Kayaks have very different purposes for different people, and for that very reason there are a multitude of options when it comes to picking out a kayak. For Florida, a sit-on-top is usually more versatile and well-rounded for our waterways.
Hobie revolutionized the kayaking world in the early 2000 when they launched the first Mirage Drive model. This kayak was propelled by fins, that were powered by the users' legs. The boats also came with a rudder for steering and were so easy to operate anyone could use one. Hobie still produces Mirage Drive kayaks but a lot has changed since then. There are six different models ranging from a 10 ft. single to a 13.5 ft. tandem.
My favorite of the bunch is the Revolution 13. There is no end to the things you can do with a Revolution, the boat is literally the perfect kayak for Central Florida. I have spent many days out on the Wekiva River just floating along with a large group of people. The mirage drive really came in handy when a squirt gun fight broke out, I was able to move forward at the same time I was shooting pretty handy.
The Revolution comes with two built in rod holders and makes for a wonderful fishing platform. Although not stable enough to stand up and fish from, there is plenty of room on deck to keep gear and store rods. The kayak also comes with a tackle box that fits very nicely down in one of the round hatches. The side rails of the kayak are flat and make it easy to mount extra rod holders or maybe even a fish finder or camera mount. Hobie even makes a live well that fits perfectly in the back!
I learned how to sail on small Laser sailboat and then moved into a Hobie catamaran. I was a bit reluctant to try out the sail kit at first because I just assumed it would be a very slow paced and boring ride. I was quite wrong! This little boat can scoot. Dont let the small sail size fool you, it catches plenty of wind and at times too much. The mast is made from aluminum that can flex fairly easily and it's a good thing to. In heavy wind instead of being flipped the mast bends a bit and all of the air just falls right out of the sail. I was on the edge of my seat the entire time I was sailing. It is a good idea if you are getting the sail kit to get the bigger rudder it helps tremendously with steering and tracking
For me, what makes a kayak go from good to great is its versatility. The options are endless when it comes to Hobie's line up of kayaks. For me a 13 ft. is the most versatile, small and nimble enough to take down small rivers but yet long and fast enough to do longer trips and camping. The revolution is a great kayak without any options, and is transformable into almost anything you need it to be.