Generational Hammocks
by
Richard
05/14/2013 11:10:31 P.M.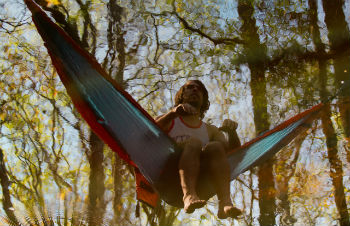 Recently, I encouraged some friends - a family of four - to get some hammocks for them (the dad and the boys, at least...the mom's content with the comfy bed). Quickly, they fell in love with their new portable beds made by Eagle's Nest Outfitters (ENO).
Content being the hammock-father of the Drake family, I prepared to take a trip home to visit my parents in Michigan. Because of insightly baggage fees, I took only a medium-sized Base Camp Duffel by North Face and packed it full of important things. So, I first put my hammock in, and then bothered with other trifles like "clothes" and a copy of "The Bible."
As a matter of fact, I packed my whole system: doublenest hammock, dryfly rain fly, and guardian bug net.
When I arrived in Michigan, I was pleasantly greeted by such delightful weather. I was thrilled to have my hammock.
Then I learned that it had been raining often across the state. I was thrilled to have my rain fly.
And finally, because of the rain, the mosquito population was the largest my step-father (age 74) had ever seen it. I was thrilled to have my bug net.
So, I eventually slipped off and set up my ENO - to do some reading, daydreaming and to take a deep spiritual breath. I found the spot - underneath a tree next to a brook surrounded by fields.
After an hour or so, however, I started turning over and then, rip, splash, I was in the brook.
7 years, almost to the day, that I purchased my first ENO, it had died. The beautiful teal and orange doublenest.
And my Michigan trip concluded without me having used the rain fly, or the bug net. But, I will again...later - because I just ordered a new hammock from ENO. And hopefully, this one lasts as long as the last one. Only this time, I'll not wait so long to patch the three tiny holes I left precariously pressured under my body weight.
In 7 years, I'll be ready. And until then, I'll be enjoying my second-generation hammock.