Appalachain Trail Backpacking Gear
by
Krispy Kritter
04/13/2010 11:55:39 A.M.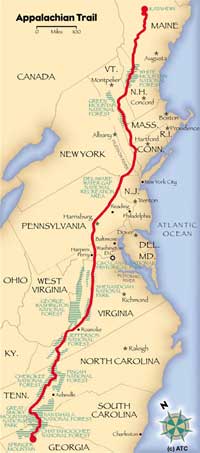 Hikers are basically new to the trail, and each other, during the first week or two on the trail. Trail talk begins by breaking the ice with introductions. Eventually a common subject everyone can talk about involves their equipment. Most hikers are carrying new gear and are more than happy to explain their reasoning why they picked a certain brand. Others want to compare, to see if they made the right choice. Questions are bounced back and forth, How heavy is your pack? What kind of stove do you use? Tarp, or tent? And the question and answers continue down the trail.
There are basically three types of gearhead backpackers: The ultralight, the light weight and the, Oh my breaking back! the heavy weight. A base pack weight is described as the total weight of the backpack minus food and water. Depending on who you talk with, the numbers may vary to describe what category you fall into, but the result is the same. I belong to the KISS (Keep It Simple Stupid) brotherhood, so I like to be more descriptive than numerical. Ultralight weight is very light, light weight is medium and heavy is a monster load. I like to think of myself as a light weight backpacker with a. base weight of 16 pounds and with a four day supply of food and two liters of water my pack weight is 24.9 pounds.
One of the advantages of being a seasoned thru hiker is knowing what equipment works for me. Backpack, tent, sleeping bag, and stove all have been with me on other hikes, so I know what they can and cannot do.
I can carry a durable and light backpack because my pack weight is under 30 pounds - Granite Gear Vapor Trail at 2.0 pounds.
I was debating on what tent to take with me. I use two different types of tents, depending on the weather, the Henry Shires Rainbow Tarp Tent 2 pounds 2 ounces and the Big Agnes Seedhouse SL 2 at 2 pounds 14 ounces. If the weather looks like it is going to be wet I will go with the Seedhouse. I do like the idea of shedding 12 ounces with the Tarp Tent. I made my decision, lighter is better, the Tarp Tent will be my home.
I love my sleeping bag. My Western Mountaineering Sports UltraLite weighs in at 1 pound 13 ounces. A true 20 degree down bag it has been with me over 5,000 trail miles and it's going for a couple thousand more.
The clothes I wear and carry have proven themselves in some of the ugliest three season weather a person could hike in. Everything I wear is based on the layering system. The first layer is closest to the skin which wicks moisture away from the body, the thermal layer is a fleece pull over and finally a hard shell to block rain and wind. Extra clothing consist of a Western Mountaineering Sports Flight down jacket for the bone chilling cold nights, a Zip Tee merino long sleeve shirt, three pairs of socks and a pair of convertible long pants (pant legs can zip off into shorts). Best of all is my Mountain Hardwear Kilt. I am wearing the new 10th anniversary kilt that actually has pleats. You can't find anything finer to hike in on a warm mountain day.