Follow Friday - Wend Magazine
by
The Brit
05/28/2010 03:16:51 P.M.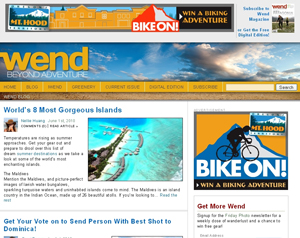 Wend Magazine is a physical publication put out by Wend every month. The magazine consists of great articles on the outdoors, environment, travel and other inspiring stories. I've read the magazine online from their website for a while now, it tends to nurture my artistic side with it's stunning photographs of far off places. In addition to their great magazine they also have a blog on their website which posts some funny articles poking fun at sports blunders, or news on environmental issues.
Most of their posts are random and entertaining, while still being incredibly informative. Except perhaps their wipeout Wednesdays, which is videos of wipeouts in a sport, like mountain biking. I suggest you go look at their blog, it's a great company and a great blog.
Follow Wend Magazine's blog, facebook, and twitter.
And if you want to read my Follow Friday post on twitter, go here!