Follow Friday - The Art of Backpacking
by
The Brit
04/30/2010 10:51:27 A.M.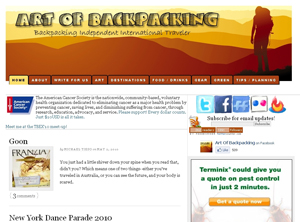 I'm continuing our Follow Friday blog entry, this time on "Art of Backpacking".
Art of Backpacking is a great little blog for the people aspiring to be and already are backpackers. The writers are very well traveled backpackers who give a global perspective to the hobby. As well as blog posts on just backpacking, they also post a lot of random good posts like "Week In Pictures: Earth Day." On top of that they have other parts of their sites that display information like art, destination, food/drinks, gear, green, tips/planning.
Overall their writing and information are great for anybody, whether you are interested in backpacking, travel, or just want to be educated.
Follow the Art of Backpacking's blog and facebook.
And if you want to read my Follow Friday post on twitter, go here!