Follow Friday - The Adventure Blog
by
The Brit
04/23/2010 10:10:44 A.M.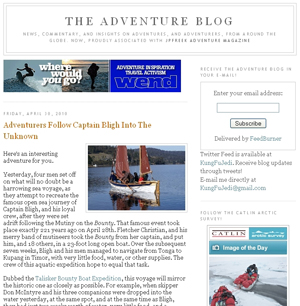 I'm continuing our Follow Friday blog entry, this time on The Adventure Blog.
Known only as "Kung Fu Jedi" the writer of The Adventure Blog takes a lot of time out of his day to search and report on all the adventures around the globe. You can expect to hear about the people going to the poles, Everest, rowing the Atlantic, and even the crazy ones like his latest blog: Adventurers Follow Captain Bligh Into The Unknown.
He even has done a review of the Vibram Fivefingers we sent him to try Barefoot Running.
His blog and twitter are a great way to stay in touch with things happening in the outdoor world. Check it out!
Follow Kung Fu Jedi's blog or twitter.
And if you want to read my Follow Friday post on twitter, go here!