Follow Friday - The MountainWorld Blog
by
The Brit
05/14/2010 01:06:04 P.M.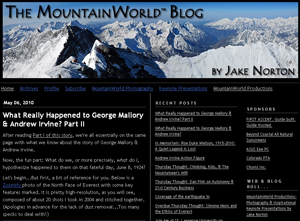 The MountainWorld blog is a new site I discovered by a very experienced Mountaineer Jake Norton. Jake has climed Everest, a few times, as well as being a professional photographer and motivational speaker.
The most interesting part to his website is the insight and experience he adds to articles about Everest. He knows how to climb it, he knows the history about it, and he adds a great perspective to an outsider like me about the things happening at Everest.
Recently he just posted two articles about the mystery of George Mallory and Andrew Irvine. If you need a bit of history catchup here is a synopsis:
Most of us know the basics: On June 8, 1924, George Mallory and Andrew Irvine set off from their high camp at roughly 27,000 feet on Everest's North Ridge. That day, at 12:50 PM, their teammate, Noel Odell, last saw the pair less than 1,000 feet from the summit...just before they disappeared into a pre-monsoon snow squall. Mallory & Irvine reappeared only in the pages of history.
And, so began the greatest mystery of mountaineering - perhaps the greatest mystery of all exploration: Did George Mallory & Andrew Irvine reach the summit of Everest in 1924, a full 29 years before Sir Edmund Hillary & Sherpa Tenzing Norgay climbed the mountain from the Southeast Ridge?
Jake expounds upon the known facts of George Mallory's expedition in the first article and then in the second article goes on to suggest what he thinks happened, based upon his knowledge of George Mallory and personal experience on Everest.
I suggest checking out both articles, and all of his articles on the site.
Follow Jake's blog.
And if you want to read my Follow Friday post on twitter, go here!