Follow Friday - Birthday Shoes
by
The Brit
05/07/2010 12:51:59 P.M.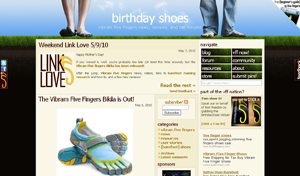 Justin Ownings runs and maintains Birthday Shoes, a blog about Vibram Fivefingers. Lately in the outdoor and running industry the idea of barefoot running as taken a huge leap forward. Along with the idea of running barefoot is Vibram Fivefingers, a shoe that allows you to practically run barefoot with a layer of protection on your feet.
Birthday Shoes talks a lot about Vibram Fivefingers Bikilas that we carry online.
His site is a great way to stay up to date on the latest barefoot studies, as well as the latest Vibram Fivefinger news.
Follow Justin Ownings' blog or twitter.
And if you want to read my Follow Friday post on twitter, go here!