Fivefingers Spyridon Field Test
by
Shell
07/07/2012 11:18:41 A.M.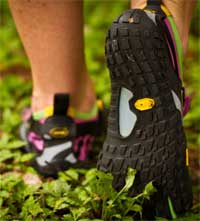 As a long time Vibram Five Fingers fan I must admit that I was initially unsure of the need for the new Spyridon. This shoe was introduced as a new trail runner, with a lace-up and non-lace version available as of summer 2012. With so many varieties already available, the Spyridon just seemed to be shoe overkill. The lace-up Spyridon did not fit correctly with my high arch, so I chose the non-lace version which seemed to pull far less on top of my foot. That initial insecurity changed when I wiggled my toes into this updated style and took a trial walk on some rough, uneven surfaces. I was also very impressed with the level of overall comfort I felt in the non-lace Spyridon. As I have traditionally worn the KSO Treks on trails, I was prepared for the rigid protection of my normal trail shoes.
Itching for a more intensive trial based on the Spyridon's instant comfort, I took them outside for a quick run and found that the design does allow for far more movement than I initially anticipated. To my surprise the rubber outsole is much more flexible than the original Trek models—thus allowing the foot to consistently move naturally and respond quicker. As with all Vibram Five Fingers models the rubber sole manages to protect feet from uncomfortably feeling, or being maimed by, any rough edges or sharp objects. Unlike all the other models, however, the Spyridon excels the protection versus flexibility ratio. The Spyridon outsole has the level of protection found in the Trek outsole yet it is most similar to the Bikila in feel and flexibility.
The Spyridon will be my next Five Fingers purchase and I can't wait to get out on the trail and really put them to the test.