Searching for Green in London
by
Richard
07/12/2014 05:36:14 P.M.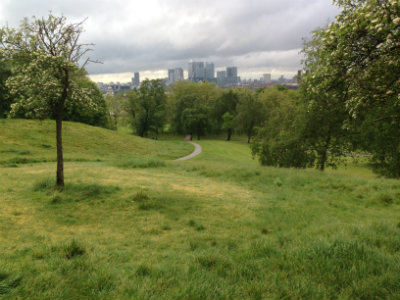 When I landed in London, I hoped that the largest swatch of land I was going to see would be bigger than the football pitch at White Hart Lane, but I had no need to worry. These four stunners, in particular, welcomed me to this 2,000-year-old city with open arms:
Greenwich Park—Home of the Prime Meridian and large patches of rolling green hills, interspersed with forests. I couldn't help but feel like Greenwich was older and more historied than many places I went in London. This was verified when I stumbled upon the marked ruins of a Roman Era structure. Go here if you like science, history, and beautiful scenery. (Bonus: you can tour a 150-year-old English clipper called the "Cutty Sark," though you have to pay to get in.)
Hyde Park—This Royal Park abuts Kenisington Gardens, home to some of the royal family. But don't be fooled by the prim and properness of it's affiliation with British royalty, people are woven throughout this glorious 350-acre expanse. On a beautiful day, people are everywhere. (Bonus: Hyde Park and
Kensington Gardens, together, total over 600 acres of green space in the middle of downtown London, larger than the country of Monaco.)
Regent's Park—In many ways, this is the place you'll find just about everything you could find in a London park. Beautiful gardens, abundant wildlife, numerous pitches (cricket, rugby, football, and even baseball games can be found throughout), places to get away for some quiet, and much more lay hidden in this glorious park. (Bonus: in addition to the wildlife roaming the park, the London Zoo is also housed in its northeast corner).
Richmond Park—Deer in London. That's what you get when you travel to soutwest London to vist Richmond Park. Established as hunting grounds for the royal family, the park was eventually switched over to a beautiful wildland park of over 2,000 acres. The place is truly massive and wild, even within the city. (Bonus: go here if you want to get lost in a forest in the middle of London. I promise, there's enough room to.)
The next time you're in London, give these delightful parks a try...or go explore others!