Fall Running Windproof Jackets
by
The Brit
08/17/2010 11:36:55 A.M.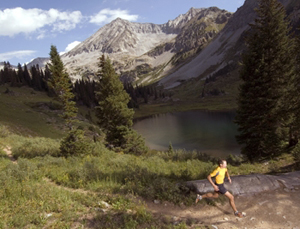 Fall is on its way! Okay who am I kidding? It's still 100 outside, but we have received in some cool products for fall from Mountain Hardwear, Marmot, ArcTeryx, and Patagonia. Perhaps if you get excited about them enough it will feel like fall? In fall it tends to get a bit colder and being a runner the idea of getting a wind jacket crossed my mind. What I've done is taken four jackets from different companies and compared them in a multitude of different categories: Mountain Hardwear's Geist, Marmot's Trail Wind, ArcTeryx's Celeris, and Patagonia's Nine Trails. These are all windproof ultra light jackets that would be great for running up and down mountains on a cold October morning. The question is which one is the best?
The test involves five categories: Fit, comfort, technical, weight, and style. A colleague and I took our time to try on each jacket and weigh each of its features. We then rated each jacket in the four categories 1stto 4th, added up the totals in each jacket, and the lowest score was the winner!
5.5 ounces – 4
th
Fit – 3
rd
Comfort – 3
rd
Technical – 1
st
Style – 2
nd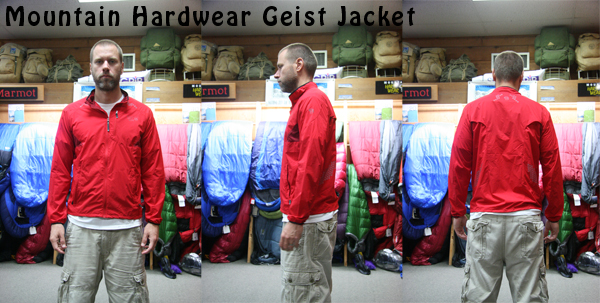 The Mountain Hardwear Geist is the most technology advanced jacket of the bunch. It has reflective designs all over the front and the back, three pockets in total, and an amazing breathable panel in the back that still blocks out a lot of wind. When trying on the jacket I noticed that cuffs where tighter on my arms than any other jacket. This would be great for running because it keeps them from riding up my arms when moving my arms back and forth. The collar is lined and comfortable, making for a great fit when zipped all the way up. There is an adjustable hem cord on the bottom of the jacket that allows me to tighten it down and stop drafts of wind. Under the arms are ventilation patches, a slight stretchy fabric that breathes better than the rest of the jacket. The fit of the jacket was comfortable but overall a bit too baggy in places, especially the chest. Overall I loved this jacket. It has great technical features, better than any other jacket. However I was rating the bags on how they were as an ultra light running jacket, and this one being the heaviest seemed to have too much. This would be a great jacket if you are looking for a great versatile wind jacket that can have other uses.
The Mountain Hardwear Geist is avaliable in Mens and Womens. The Mountain Hardwear Geist is also avaliable in Mens and Womens vest.
4 .62 ounces – 3
rd
Fit – 1
st
Comfort – 2
nd
Technical – 2
nd
Style – 4
th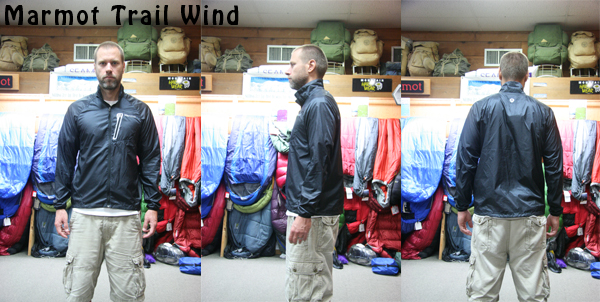 The Marmot Trail Wind is a great super lightweight jacket. As soon as I saw it the minimalist design stood out: only the essentials. There is only one chest pocket and no extra features on the jacket. The cuffs are simple elastic and there is also a hem cord design in the waist. The fit on this jacket was the best. It was comfortable and tight in all the right places. The arms felt close enough to my skin to not blow around and not chaff. The chest was closely cut and easy to wear. This jacket in all its minimalist glory has one major fallback: mesh underarm patches. Although the mesh amounts to a great deal of breathability in an area we sweat a lot in, it also lets in the wind. This is a major design flaw in a jacket that is meant to be "windproof". However if you are comfortable with loosing that windproof and having a great ultra light jacket then this is the one.
The Marmot Trail Wind is avaliable in Mens and Womens. The Marmot Trail Wind also is avaliable in a Mens and Womens hoody.
4 ounces – 1
st
Fit – 4
th
Comfort – 4
th
Technical – 3
rd
Style – 3
rd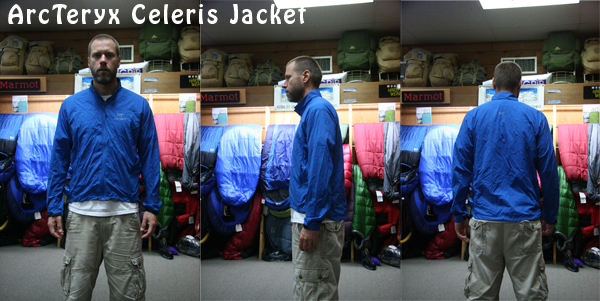 I'm a huge fan of ArcTeryx and their products. I'm often heard saying they are way ahead of any company, but surprisingly this jacket didn't blow me away. In fact I felt that it didn't have any notable features except the cuffs. The cuffs are Velcro and therefore adjustable for any size wrist in any type of desired tightness. Other then that the only other notable features were a fleece lined collar for comfort. The fit was great in the arms or chest, and the fabric felt strange against my skin. There is only one pocket and no breathable sections in the armpit for breathability. Still a great jacket that I'd recommend for a causal walker or hiker, I just couldn't see myself wearing this while running.
The ArcTeryx Celeris is avaliable in Mens and Womens. The ArcTeryx Celeris is also avaliable in a Mens and Womens vest.
4.37 – 2
nd
Fit – 2
nd
Comfort – 1
st
Technical – 4
th
Style – 1
st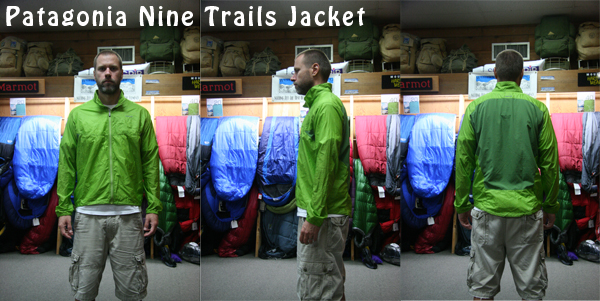 Patagonia's Nine Trails jacket was my favorite of the bunch. As soon as I put it on me felt comfortable and the fit great except for the arms. The jacket has a lined collar that when lounging around in I noticed felt great against my neck and didn't cause any discomfort. There is a huge stretchy patch that goes across the back and under the arms; this is meant specifically to breathe better in those hot sweaty areas of our bodies. This unfortunately means that part of your body is acceptable to a slight breeze as the material isn't windproof, but for my purposes of running I was okay with this. In terms of style this jacket looked great, color combination and cut where superb like most Patagonia products. The only major downside to this jacket was no pockets. I'm okay with this because I carry nothing when running and if I wore it for casual wear I'd have pockets in my pants. The sleeves are also a little longer then all the other jackets which I liked because I have abnormally long arms.
The Patagonia Nine Trails is avaliable in Mens and Womens
The Results
Overall these are all great jackets that are worth their weight in gold. I've tried my best to put them on a scale; perhaps you'd have different opinions if you tried them all on. Never less here are my results:
1
st
–
Patagonia Nine Trails
2
nd
-
Marmot's Trail Wind
3
rd
–
Mountain Hardwear's Geist
4
th
–
ArcTeryx's Celeris