Deerfield Beach Paddle for Humanity
by
Jason
06/08/2012 06:38:38 P.M.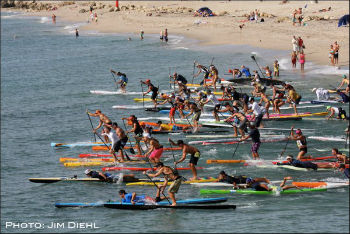 Light wind and pretty flat conditions defined the Waterman's Paddle for Humanity in Deerfield Beach on Saturday June, 2nd 2012. Jess and I signed up for the 2 lap/10k race - which started on the beach just south of the Deerfield Beach Pier.
The race started with a straight paddle just beyond the pier, followed by left buoy turn (which caused a crazy bottleneck for the racers) and then headed north to the buoy by the inlet. We turn right around the next buoy and do it all again with another lap and then a beach run finish - where we started from. I raced in the 14' division on my 14'x25"ACE Pro "Brushed Carbon" by Starboard since the conditions were so nice. Jess tore it up on her 12'6"x26.5" B.O.P. "Brushed Carbon" by Starboard. We both placed in the top 10 for our divisions and were super stoked!
It was so cool to hear the awesome sounds of the polynesian drums as we raced out on the water. It kind of sounded like a war drum. There were hula and fire dancers who did a sweet little display of their skills after the 10k was over, as well. They were phenomenal!
Then we got to watch the Chuck Patterson relay. I couldn't believe these guys! Machines! Doing the relay right after the 10k! The relay consisted of 3 laps for the men and 2 laps for the women around a course that is 50% water and 50% land. The laps include some kind of additional physical and/or mental challenge and be designed to challenge a paddlers physical performance levels.
The alternate portion of the race was to run up the beach then roll under low lying obstacles for a 20+ ft. After the relay we went to the awards ceremony at Ocean234 where they had a special 40% off menu and a free beer, from sponsor Kona Brewing Company, for all the participants of the race. What a great and well organized race. Jess and I are so thankful to race with all of these amazing athletes and friends.
Thanks to all our awesome sponsors: Travel Country Outdoors, Werner Paddles, Hinano Tahiti, Pocket Fuel Naturals and Starboard SUP. Can't wait to see everyone at the next awesome event!