Crown 60 Achievement
by
Dirk
12/27/2012 12:04:50 P.M.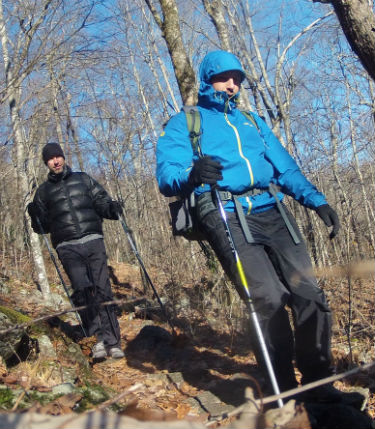 It was no later than 4pm and I was cruising through my first ever 20 mile day (and continuing), my highest mileage before that had been just short of 13 and I was epically wasted by the end of that day. I felt as I was moving fluidly, up a thousand foot incline without needing to stop, and recovering much quicker regardless of our lack of sleep on the five hundred mile drive up from Orlando. As I continued to revel in my newly discovered super powers, I reflected on how exactly I achieved such stardom on the trail.
Before the trip even started a few friends and I were mentally set on packing "ultralight"- or as close to it as we could get. We were aiming for a sub 10 pound base weight (everything but food and water) – which depending on who you are could or could not be considered ultralight for fall temperatures. But politics aside, our aim was to pack light, way lighter than any of us had ever packed before. This decision led to some necessary gear changes one of the main ones being a pack upgrade.
Up until this point I had been using an older Gregory Z55, which actually weighed about a pound less than the newer generation Z backpacks that they are producing now. But still, it was going to be far too heavy for this trip, I ultimately fell toward purchasing a Granite Gear Crown 60 pack.
The Crown 60 is a 2 lb 2oz pack (as it sits on the shelf) and is even lighter if you felt the need to remove the internal frame sheet. The pack itself isn't designed to carry any great weight despite its relatively spacious carrying capacity, from personal experience putting anymore than 30 pounds in this pack would be pushing it, and even at that weight it's probably not enough pack to be comfortable for a very long time. This pack is suited to the hiker who doesn't plan on carrying more than 25 pounds while still maintaining the ability to carry quite a substantial bit more if the need arises.
This past November I took it on an 80-mile hike on the Appalachian Trail and I had no complaints. My final pack weight was around 20 pounds with food and water (from a 10 pound base weight) and seemed to be at its best balance between comfort and capacity. The biggest difference between a pack like the Crown 60 and the typical internal frame pack is that the weight distribution isn't going to be the true 80/20 hip to shoulder as a good fitting pack typically should be. The weight of the pack does sit primarily on your hips but because the pack conforms to the contour of your back it feels more like its attached to your body and carries weight a little differently to a rigid internal frame with possibly a little more weight distributed on your shoulders. When trying this pack out keep this in mind- it's not an internal frame, it will feel different, as it should. The last thing you want to do is trick yourself into thinking this pack can comfortably carry heavy weight as well as your internal frame.
The other thing that I appreciated from the pack was of course its light weight construction- I felt really spoiled by the fact that my pack was so light and felt like I was cheating two of my other hiking partners up the mountains (who had slightly heavier packs than mine). This pack is about 2 pounds lighter than the typical pack of the same volume that's considered "light weight"- a typical 4 lb to 2 lb (crown 60) ratio, and a typical 45 lb to 30 lb (crown 60) comfort carrying capacity.
To those who dont think two pounds makes a difference, if you're one of those hikers who enjoys the "comforts" and would prefer to have a heavier pack that carries 25 pounds more comfortably- the next time I go hike a 25 mile day on the AT I'll let you carry my 1 liter water bottle (about 2 pounds) we'll see how enthused you'll be about doing that again the next day. The Crown 60 is for people who are looking to transition from "light weight" to "ultra light"- if you already have a good gear list of lightweight gear in your pack but want to move away from the heavy 6 lb expedition pack or weighty 4 lb lightweight pack the Crown should definitely be on your list of options.
Ultimately, this pack isn't for everyone- its for people who plan on or are already in the sub 30 lb range with food and water for several days on the trail. If you over pack the Crown 60, it wont showcase the packs ability to perform in the wilderness, and might result in a sub par experience in the woods. Nonetheless, I highly recommend this pack. Keep walking, keep hiking, and keep enjoying the wilderness!