Big Agnes Air Core Sleeping Pad
by
Spencer
01/28/2013 03:09:10 P.M.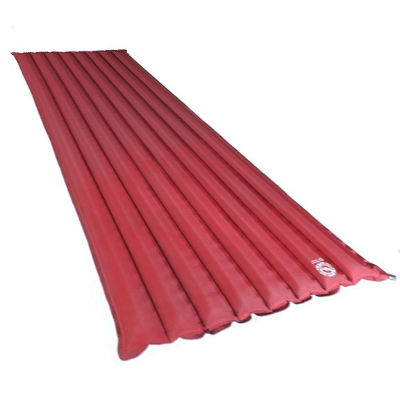 Let me start this off by saying that I am a long-term, diehard self-inflating Thermarest user. My parents bought me my first sleeping pad when I was 12, as I started to camp and backpack a lot more with the boy scouts. Driven purely by weight and ease of use, I have chosen to use my 3/4 length 1 inch thick pad for over 10 years. But now all of that has changed.
While preparing for my most recent trip, the topic of sleeping pads came up.
My friends and I were preparing for a one hundred mile hike along the AT. The plan was to do around 26 miles a day and carry as little weight as possible (Our goal base weight was around 11 pounds). The forecasted temperatures were 60s during the day and dipping into the teens at night. For us Floridians - more times than not - a sleeping pad is just there for comfort, but while in cold climates like that it is much more than a soft place to land at night.
I carried a Marmot Sawtooth 15 sleeping bag and was a little nervous about the temperatures dipping down so close to the lower limit of my bag. The day before we left I ditched my tiny pad in favor for a Big Agnes Insulated Air Core that I borrowed from my girlfriend. The added thickness and primaloft insulation made me feel a bit more confident about staying warm at night (contrary to popular belief, people are more affected by the coldness of the ground than the ambient temperature of the air).
The first day we hiked from 6 in the morning and didn't stop until 7 that night. We pulled into our first shelter and were mentally and physically drained after covering 28 miles. All I wanted to do was eat a small dinner and crash. As I started unpacking my backpack, I pulled out the pad and was bummed as I remembered that I would have to inflate it (truth be told, before that night I had never inflated one). To my surprise I had a nice firm bed in a matter of minutes. When I finally crawled into my sleeping bag I couldn't help but smile as I looked over at Dirk who was laying on his Z-Lite.
I have spent hundreds of nights camping outdoors, from New Mexico to New York, and I have never slept so warm and comfortable on the trail. I am a side sleeper and have gotten used to the fact that my bony hips will hit the ground when I am camping, but much to my amazement that was not the case. I was actually able to let a little air out to soften up the pad without even coming close to the ground. The second morning, I checked my Suunto watch when I woke and it read 13 degrees. I had been a little chilly that night but was able to easily sleep through it! I know for a fact that if I had been sleeping on my 1 inch pad I would have been cold all night (been there done that).
The biggest thing for me is that I finally realized I was not adding too much extra weight, and gaining so much more comfort. In years past, there has been a large disconnect between these two and now I (finally) know that a few ounces is absolutely worth a great night's sleep. I have since purchased a Q-Core pad (3.5 inch thick on the sides) and can't wait to use it. Stay tuned for its comparison to the awesome Air Core.