Backpacking 101
by
Bryan
04/09/2010 04:09:18 P.M.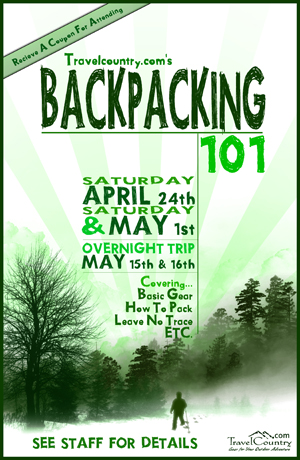 More mysterious than the Snow Leopard, more intriguing then the Loch Ness Monster, more engaging then 3D televisions…
It's Backpacking!
At Travelcountry this month we want to put all the myths aside and help the beginners figure out just how to tackle their first backpacking adventure. After a first successful run of this class last spring we are going at it again!
The class is in two installments on Saturday mornings. April 24thand May 1stto be exact. In the class we will be covering:
Leave No Trace
How to Pack
Basic Gear
10 Essentials
And other relevant information you need to know
The class will be taught by two of our employees: Bryan Hare and Daniel Robinson. Both experienced outdoorsmen who have gone on many backpacking trips.
To follow-up the class we will be doing an overnight trip May 15thand 16th.
Space is limited so call and talk to one of our floor associates to sign up for the class.
If you can't make it, or live in say… Northern Alaska… we will be filming the class and posting it online later.