ArcTeryx Alpha SV in Colorado
by
Bryan
03/31/2011 10:57:38 A.M.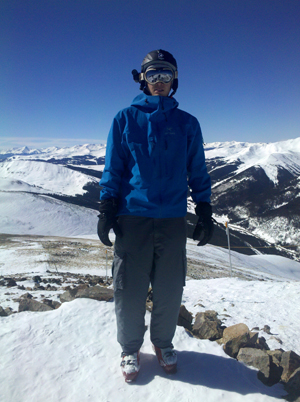 I feel like everyone would be happier if they pursued their passions. So I ask the question. What is yours? What activity or "thing" on this crazy earth of ours allows you to realize that you are exactly where you want to be at that very moment? Skiing to me is my escape, my "thing". In order for me to explore my most favorite sport; I have to be properly equipped. This is my second year using my Arcteryx Alpha SV, and I couldn't be happier with its outstanding performance.
As a snow sport enthusiast there are so many ways to outfit for the descent. With the recent plunge of the economy, the consumer is more price sensitive than ever. So I try to justify Arcteryx's staggering prices. I will solve this reservation with a simple math equation. Let's say that an average ski jacket is $200 retail. The alpha weighs in at $600. I know it looks bad, but bear with me. The craftsmanship that goes into each arcteryx piece has its average piece of outerwear lasting between 15-20 years. If you divide the 600 by 20 years, you'll get an annual price of about $30. The other jacket equation results in about $40 a year. I know this might sound like a minuscule difference, but you forgot the price of the additional jackets you bought to last 20 years.
The features and versatility of the alpha ranks it as the markets top piece of outerwear. During my most recent ski trip to Breckenridge, CO I was able to get hands on experience with all of its individual achievements. The Alpha SV; unlike other Arcteryx pieces, integrates a non collapsible hood. This aspect allows the front zipper to come up much higher, which shielded my face from harsh conditions. Additionally, when the snow really started coming down, the hood was able to go over my helmet, enhancing my protection. The premier Gore Tex Pro Shell laminate created a hypothetical oasis amongst the cold windy desert.
In the event that you crash, the Alpha SV actually transforms into a big cushy pillow. Well, not really, but it will put up with whatever you throw at it. In most scenarios this jacket is an over kill, simply because of all of the enhanced features. I did end up taking a tumble going down the aptly named double black diamond run; "Snow White". The jacket was able to shed off the snow I managed to get all over me. The big cushy pillow ended up being the snow itself, and the trip that I had will end up being one of the greatest ever!