Appalachain Trail Day 143
by
Krispy Kritter
08/29/2010 03:40:52 P.M.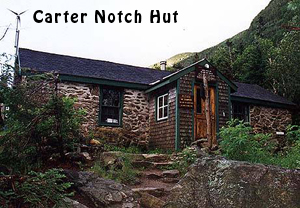 August 25, 2010 – Day 143 - Wednesday
Destination: US Route 2 Starting Location: Carter Notch Hut Today's Miles: 14.50 Trip Miles: 1826.80
Woke up to a steady rain. After breakfast we did cleanup for work for stay. We weren't done until 10:00am. Nate Dog, Captain Slick, Red, Q-tip and I left the shelter in full rain gear and headed up towards Carter Dome. Throughout the day the steady rain continued. The trail became a stream of water that didn't help with the foot placement. Rocks were slicker than snot and the worst part were the puddles. It got to the point that boots and socks were soaking wet I just walked straight through.
Red got really cold and everyone headed for Imp Campsite and shelter. Red got her wet clothes off and warmed up-in her sleeping bag. The shelter was full of about 12 college students from Brown University. Everybody was in a sour mood and we all decided to push on into Gorham to be dry and warm. The hike down Zeta Pass, Carter Mountain and Mt. Moriah was treacherous footing. Everyone was slipping, sliding and falling down steep boulders and rock face. Footing was so bad I had to crab-crawl down the rock face. Small streams were gaining water volume. The hutmaster told us to be careful because flash floods were posted. Tired, exhausted and soaked to the bone we all made it safely across the Rattle River. By 10:00 PM we are walking through Gorham heading for Hikers Paradise. It was an effort for everyone to push but I bet when we wake up dry there will be some mighty happy hikers.
You can check up on Wayne's almost daily progress at his Trail Journal. Or you can view his last blog entry on Travelcountry's blog.