Appalachain Trail Day 13
by
Krispy Kritter
04/18/2010 11:11:28 A.M.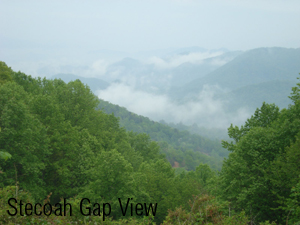 April 18, 2010 – Day 13 - Sunday
Destination: Fontana Hilton Shelter Starting Location: Stecoah Gap Today's Miles: 15.10 Trip Miles: 164.00
"And in the end, it's not the years in your life that count. It's the life in your years." ~Abraham Lincoln
Greyhound and I left Robbinsville in the early morning with frost on the grass. We hitched a ride back to Stecoah Gap. We said goodbye to each other, he heading SoBo and me going NoBo.
The cold weather helped me climb a hard ascent out of Stecoah. Most of the day was a steady up and down until after the Cable Gap Shelter, before dropping down into Fontana. Once again the steady downhill walk pounded my feet and knees. The views from the ridges are awesome of the Smokies and tomorrow I will be hiking in them.
I made arrangements to meet a mutual friend of Lady Kritter and I. KT met me at the Fontana Hilton with a bag of trail magic containing food and cleaning soap (KT heard there was a shower at this location) and made reservations for dinner at the village. I didn't find out until later that KT drove 3 hours to come see me. Normally the drive is 1 1/2 hours but due to the massive winter rock slides that collapsed on a major highway the drive was longer. Thank you so much KT. Two days of magic from friends can definitely lift ones spirit.
I still have not found a hiking family to be with. There is a small loose group of us that are in between two larger pods of hikers and we are just beginning to know one another. There is Skywalk (named because of his height), Sugar Ray (named because of a bear rope incident coming back and breaking his nose). Baldy, Truth, Chicken Feathers, Crafty, Sandbagger, Dust in the Wind, Baldy and Eric, just to name a few. Some of the hikers will be taking a zero tomorrow and the rest of us will be leaving to enter Smoky Mountain National Park based on when we get our mail drops.
Life on the trail is so uncomplicated, why can't the real world follow suit…
You can check up on Wayne's almost daily progress at his Trail Journal.