TravelCountry Kayak Demo and Spring Sale

by The Brit
05/07/2010 01:06:19 P.M.
Sunday, May 8, 10am-5pm Sunday, May 9, Noon - 5pm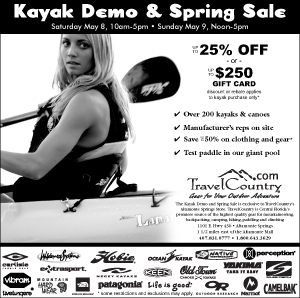 up to 25% off or up to $250 gift card on kayak purchasesplus clothing and gear up to 50% off.
Our annual kayak demo and Spring Sale will be bigger than ever this year. This event was limited to Johnson Outdoors canoes and kayaks in previous years but this year we're expanding the special pricing and rebates to all our kayak brands. If you live anywhere near Central Florida and you're in the market for a kayak, you need to make the trip this weekend.
Over 200 kayaks & canoes in stock
Giant pool on site. Paddle before you buy
up to 50% off clothing and gear
Manufacturers reps on site all weekend long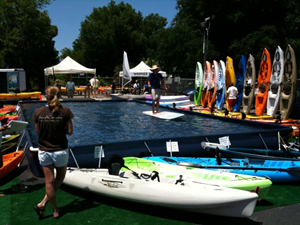 In-store only. This sale is not available online.
TravelCountry is located on Hwy 436 (Altamonte Drive) just 1 1/2 miles east of the Altamonte Mall, across from the Circuit City shopping plaza. Click here for map to store.
Some restrictions and exclusions may apply. Not all brands qualify for discount.